Institutional Context
Summary
The Royal Veterinary College is a self-governing academic institution within the University of London. It specialises in veterinary medicine, veterinary nursing and biological sciences, and is ranked second in the world for veterinary science. The College's holistic approach to knowledge exchange combines basic, applied and clinical disciplines to examine problems in veterinary science, identifying solutions for the betterment of animal and human health and welfare. It does so through strategic partnerships with industry, academia and government agencies. These partnerships create interdisciplinary teams to focus on globally important challenges, notably threats to food safety, food security and human health from infectious diseases of animals; and chronic degenerative problems of ageing as these affect the musculoskeletal, cardiovascular, renal and central nervous systems.
Institutional context
The Royal Veterinary College (RVC), established in 1791, is unique amongst UK veterinary schools in being the country's only self-governing veterinary academic institution. As part of the federal University of London, RVC is committed to education, to the discovery and translation of new knowledge, to the protection of public health and to the delivery of optimal clinical care and opinion. At the heart of this mission is innovative scholarship and pioneering clinical activity, placing the College's 200 academic staff at the cutting edge of veterinary science and medicine (RVC is ranked second for veterinary science in the QS University World Rankings 2020).
In terms of institutional strengths in knowledge exchange, RVC plays a leading role internationally in taking a One Health approach to the following areas:
Livestock and Food Systems – including food safety and security, antimicrobial resistance and zoonotic disease risks to human health; and

Comparative Physiology and Clinical Sciences – with a focus on understanding chronic degenerative processes of ageing, and finding novel ways of slowing these processes, for the benefit of humans and animals (basic animal systems physiology discovery is translated to bioinspired engineering innovations)
The College's activities in Clinical Sciences are underpinned by Europe's largest group of specialist veterinarians offering clinical services through RVC's three animal hospitals, two of which are in Hertfordshire (small animal and equine referral hospitals) and one in London (small animal, walk-in). In addition, RVC owns and operates the London Bioscience Innovation Centre which provides circa 3100 m2 of wet-laboratories and office space for around 30 small- to medium-sized companies active in the biological and biomedical sciences.
In recent years the College's long-standing reputation for excellence in research, knowledge exchange and teaching programmes has been reflected in its leadership of flagship applied research / KE initiatives such as the UKRI GCRF One Health Poultry Hub (2019-24, £20 million); and The Bloomsbury SET (2018-21, £5 million), a Connecting Capability Fund grant supported by Research England, government and industry. Each of these programmes is interdisciplinary in nature, combining expertise in veterinary science and comparative biological / biomedical sciences, with insights from the social sciences, to tackle global challenges linked to the UN's Sustainable Development Goals.
RVC has also played a key role in strengthening national and local economies, including the provision of policy support for the development of Local Industrial Strategies in London and Hertfordshire. In 2017-18 the College led a BEIS-sponsored Science & Innovation Audit of London's Knowledge Quarter, which mapped the district's world-class strengths in the Life Sciences, Data Science / AI and Cultural, Heritage and Scientific Collections, respectively. RVC works in close partnership with strategic partners such as the Animal and Plant Health Agency, Food Standards Agency, Knowledge Quarter London, Greater London Authority, the London Borough of Camden and the Hertfordshire Local Enterprise Partnership. RVC is Hertfordshire's largest institutional recipient of Local Growth Fund monies, having secured £7 million to create a Veterinary Vaccinology and Cell Therapy Hub (2018-24) and £2.13 million towards a Cardiovascular Imaging Centre of Excellence (2020-22).
Local Growth and Regeneration
Summary of approach
The Royal Veterinary College (RVC) is a research-led independent constituent college of the University of London and the largest veterinary school in the UK. Its research has translational benefits helping improve human and animal health and welfare. The impact of this research is enhanced by partnerships with business, governments, NGOs and other end-users. Internationally, RVC works with the OIE, FAO and WHO to combat infectious disease and protect public health. Nationally, RVC led the BEIS Science & Innovation Audit of London's Knowledge Quarter (2017-18), whilst locally it is creating new scientific infrastructures such as a Vaccinology & Cell Therapy Hub and a Cardiovascular Imaging Centre. Each of these initiatives is supporting sustainable local economies through better health, wealth and jobs.
Aspect 1: Strategy
The RVC is a research-intensive, specialist institution that undertakes basic biological and biomedical research, and veterinary applied and clinical research. To maximise the impact of this work it supports aspects of local growth and regeneration internationally, but also at national, regional and local level, through campuses in London and Hertfordshire.
The College's senior leadership team has recognised the strategic importance of working in these different geographies in its Strategic Plan to 2021, which commits RVC "to ensure that our basic science, and our One Health and comparative biomedical approaches are integrated with translational opportunities and that we exploit ... our research to the benefit of society." This aim is further elaborated upon in the RVC's Knowledge Exchange Strategy for 2016-20, where it is proposed to:
commercialise the results of the RVC's research, through the licensing or sale of patented methods or technologies, or the creation of spin-out companies;

create a centre [in Hertfordshire] for the manufacture of mesenchymal stem cells, and the treatment of patients within the RVC's animal hospitals and partner practices;

undertake contract research, using large animal models to develop products for human health; promote access to specialist facilities and equipment; and run CPD courses for veterinarians and para-veterinary practitioners;

offer laboratory facilities, offices and networking opportunities through the London Bioscience Innovation Centre;

provide employers with highly-skilled graduates and postgraduates in biological science and veterinary science; and

create socio-economic impact by informing UK Government policy, and through public engagement activities.
International and national level:
Much of RVC's knowledge exchange activity takes place in least-developed or low- to middle-income countries (in sub-Saharan Africa, the Middle East, South Asia and South America). This work is prioritised because it contributes to the UK Government's aim of addressing the United Nations' Sustainable Development Goals 1 to 3 (the elimination of poverty and hunger; better food security, improved nutrition and sustainable agriculture; healthy lives).
The College's approach to supporting local growth and regeneration overseas has been defined through extensive consultation with its strategic partners (for a list, see Aspect 2 – Activity). It is set out in RVC's Official Development Assistance and QR GCRF Strategy (2018-21) which commits it to:
Enter into partnerships … to build interdisciplinary teams to tackle issues of global importance, developing solutions that are acceptable locally.

Use RVC's unique knowledge and expertise in the field of veterinary science to: (i) tackle neglected zoonotic diseases influencing human and animal health; (ii) understand factors that influence pathogen flow from wildlife into domestic animals and people; (iii) determine the factors associated with intensification of livestock production that drive unintended consequences, e.g. antimicrobial resistance, emergence of zoonotic diseases that affect food safety; and (iv) develop novel, rapid, accurate field diagnostic tests and practical platforms for vaccine delivery to improve response to field outbreaks of infectious diseases in remote areas of the world.

Train veterinary scientists (in the UK and partner countries), to be capable of leading interdisciplinary teams of researchers; and encourage thinking at a holistic systems level to come up with technically-viable and socially-acceptable solutions for major global issues.

Build capacity in developing countries through training activities in country, by distance learning and by placements in the UK.
Regional (Greater South East) and local (London, Herts) levels:
Since 2017, RVC has greatly increased its regional and local profile in response to a recognition that alongside its international activities, the College is capable of making a significant contribution to delivering the People and Place elements of the UK Industrial Strategy. It is doing so by training veterinarians and biological scientists; and by harnessing its unique expertise to drive forward a range of different Life Science-focused initiatives in London and Hertfordshire. Each of these will support economic growth through new infrastructure and highly-skilled jobs.
These initiatives (described under Aspect 2 – Activity) are the result of science policy knowledge and expertise brought into the RVC's Research Office through new staff appointments since 2016. These staff have built on existing contacts and created many new connections, leading to a deep engagement with bodies such as the GLA / Mayor of London's Office, Camden and Islington Borough Councils, Knowledge Quarter London Ltd., MedCity, NLA (New London Architecture) and the Hertfordshire Local Enterprise Partnership. This engagement has enabled the small team at RVC to shape local industrial strategies, and thereafter to respond to the economic development and regeneration needs identified therein (e.g. working with Stevenage Bioscience Catalyst to secure a Life Sciences Opportunity Zone in Hertfordshire; collaborating with Knowledge Quarter London Ltd. to champion a new innovation district in central London). The College's approach has been to lead these responses where opportunities have presented themselves – for example, through funding from Research England's Connecting Capability Fund (CCF) and Hertfordshire's allocation from the Single Local Growth Fund. In this way, RVC continues to punch well above its weight nationally.
Aspect 2: Activity
Delivery of the strategy is primarily through grant-funded work, supported (and in some cases, led) by the Research Office.
International and national level:
The RVC is working worldwide with many different actors to produce evidence-informed policies for safeguarding animal and human health, together with novel tools (immunological tools, adjuvants, vectors, models) and technologies ('-omics', bioinformatics, thermo-stabilisation and delivery) for producing the next generation of vaccines. In combination these will help humankind combat (neglected) endemic diseases which affect the lives and livelihoods of the poorest people in the world (e.g. Brucellosis and Schistosomiasis), respond to emerging and re-emerging disease problems (Avian Influenza, Swine Influenza, African Swine Fever, PPR) and mitigate future disease outbreaks, whilst actively reducing the risk of their emergence by breaking the chain of transmission. The RVC is also actively pursuing new autologous stem cell therapies for treatment of orthopaedic diseases – initially in veterinary patients (horses and dogs), but with the potential for human application, i.e. a 'One Health' approach, where naturally occurring diseases in veterinary patients offer opportunities for proof of concept studies for human medicine.
In this work, RVC is collaborating with businesses, governments in Africa and Asia, NGOs, specialist research institutes and civil society. Prominent amongst them are the OIE (World Organisation for Animal Health), the FAO (UN Food and Agricultural Organisation), ILRI (International Livestock Research Institute) and the WHO (World Health Organisation). Thus, RVC and the UK Government's Animal and Plant Health Agency (APHA) are hosts to a OIE Collaborating Centre for Risk Analysis and Modelling; and the RVC is an FAO Reference Centre for Veterinary Epidemiology.
At national level, the College is a partner with the APHA in providing academic expertise in veterinary epidemiology, virology and veterinary pathology. The aim of this is to promote good practice in animal husbandry, better zoonotic control measures, improvements in human nutrition (including the adoption of higher standards in food safety, biosecurity), and advances in veterinary epidemiology and public health.
Three great examples of international activities delivering against the above are:
the £20-million UKRI GCRF One Health Poultry Hub (2019-24) – helping to meet Asia's growing demand for low-cost chicken meat and eggs while minimising the risks to public health;
the £18-million UKRI GCRF Action Against Stunting Hub (2019-24) – alleviating child under-nutrition, globally; and

The Bloomsbury SET (2018-21) – a £5-million Research England-funded CCF programme that brings universities and industry together to develop diagnostics and vaccines, thus combatting infectious disease and helping prevent antimicrobial resistance in humans and animals.
Each of these programmes is led by an RVC veterinarian or scientist.
Regional and local level:
Since 2003, RVC has offered innovation space for Life Science companies through the London Bioscience Innovation Centre. This facility comprises some 3100 m2 of laboratory and office space and hosts high-profile international businesses such as MSD (Merck), as well as small to medium-sized enterprises (SMEs). More recently, the College has worked with BEIS and local partners (Knowledge Quarter London Ltd., SQW Ltd., The British Library, Camden Council, City University, UCL) to produce a Science & Innovation Audit of London's Knowledge Quarter (published March 2019). This Audit led to spin-off projects, chief amongst which is to develop a long-term spatial plan for the Knowledge Quarter innovation district, termed 'KQ 2050'.
In Hertfordshire, RVC has been closely engaged with the Local Enterprise Partnership in designing local industrial strategies to enhance growth and create employment. The College has become the county's leading recipient of Local Growth funding for science and innovation infrastructures, receiving £9.13 million in total towards the creation of a Vaccinology & Cell Therapy Hub (due to open in January 2021) and a Cardiovascular Imaging Centre of Excellence (due for completion in December 2021), respectively. The former will provide modern laboratories and scientific equipment for use by RVC researchers and businesses. The latter will house a 3-Tesla MRI scanner capable of providing novel solutions to cardiovascular and neurological conditions in humans and animals, thereby contributing to the Ageing Society Grand Challenge identified by Government in its Life Sciences Industrial Strategy (2017). These flagship projects are creating new jobs as well as safeguarding existing jobs (155 in total); providing high-level skills training in furtherance of the local skills strategy (288 people trained); and creating 250 m2 of high-quality floor-space for SMEs, with the intention of attracting inward investment.
In terms of knowing whether such programmes meet the needs of the geographical areas in which they are operating, RVC relies on feedback from its key partners and funders, as well as the expertise of its own staff, many of whom are internationally-renowned for their work. The College's increasing success in attracting income from external grants and contracts (circa £30 million in 2019-20, including income from clinical consultancies), and the size of its allocation from HEIF, which in recent years has nearly doubled (from £1.2 million in 2017-18 to £2.1 million in 2020-21), are a powerful testament to external perceptions of the quality of its knowledge exchange activities.
Aspect 3: Results
Outcomes and outputs:
The principal outcomes from RVC's knowledge exchange activities in support of local growth and regeneration are:
New scientific knowledge, effectively shared with policy-makers and other end-users;

Human capital, i.e. skilled veterinarians and biological scientists;

Improvements in animal health and welfare through next-generation medicines and vaccines, novel diagnostic tests to support the use of the medicines and medical devices obviating the need for drug use;

Effective collaborations between disciplines, e.g. through GCRF Hubs and The Bloomsbury SET;

Assistance to Government in meeting its commitment to achieving UN Sustainable Development Goals 1-3;

Support for the disease surveillance and mitigation work of the APHA and FSA; and

Contributions to the work of LEPs and delivery of local industrial strategies in London and Hertfordshire
Communicating and acting on results:
The RVC monitors and evaluates the outcomes and outputs from each activity and reports these to the funder, whilst disseminating results to local stakeholders via scientific reports, theses and papers. Many of the latter are available through the College's online repository (NB. RVC is ranked first in the UK and third in the world for journal articles made freely available via a university repository). Feedback from funders and end-users is utilised to shape and inform future activities.
Given that most of the knowledge exchange work summarised in this template is ongoing, RVC is still in the process of collecting evidence from stakeholders as to its effectiveness. However, international scientific prizes awarded to RVC academics (e.g. JOR Excellence in Translational Science Prize 2019) and the College's REF 2014 results attest to its strong reputation for creating impact – 5 out of RVC's 11 Impact Case Studies were rated 'outstanding' by peers and one (on highly pathogenic avian influenza) appeared in the UKCDS list of the 20 most impressive examples of UK-led knowledge exchange contributing to international development. For REF 2021, RVC intends to submit 9 Impact Case Studies, for which it has collected documentation attesting to impact.
Public & Community Engagement
Summary of approach
The Royal Veterinary College (RVC) is a research-led independent constituent college of the University of London and the largest veterinary school in the UK. Much of its research has translational benefits, helping improve human and animal health and welfare.
The RVC undertakes a wide range of activities in public and community engagement, from working with schools and local community groups, to involvement in award-winning BBC documentaries relating to wildlife, and activities to engage and involve the public in our research through events such as 'Night at the Vet College'.
We run three animal hospitals, engaging owners of the animals we treat. We also educate and train veterinary practitioners and other animal healthcare professionals, to help advance their practice.
Aspect 1: Strategy
The RVC's charitable purpose is to advance higher education and research for the public benefit with particular focus in the art and science of veterinary medicine and surgery, biological and biomedical sciences and related subjects. The RVC is committed to:
Education

Discovery and translation of new knowledge

Delivery of the very best clinical care and opinion  
These activities dictate our engagement strategy, and the types of public and community groups with whom we work.
Education: Partnerships with local schools, student retention, success and progress are important to RVC's mission, as identified in its Strategic Plan 2014-21. The RVC is committed to Widening Participation in the context of its role as a high-tariff HEI and as a conduit to a highly-regarded profession overseen by national and international professional bodies. The groups identified as a focus are BAME students (who are under-represented at RVC) and those from disadvantaged backgrounds.
In response, RVC is making strenuous efforts to enhance and co-ordinate its work and priorities across the student life-cycle. We expect to see significant improvements in our recruitment, teaching and support processes, as detailed in our five-year Widening Participation and Access Plan – see: https://www.rvc.ac.uk/Media/Default/study/Undergraduate/documents/RVC%20Access%20Plan%202020-2021.pdf. A new website was launched in summer 2020, "RVC for All".
Discovery and translation of new knowledge: Communication of our science with the general public is important in explaining how this advances and contributes to both veterinary and human medicine. Scientific research undertaken by the RVC and involving experimental animals can be emotive for the wider community if not properly articulated. We proactively explain to the public how our research supports new animal treatments, and the role that experimental animals play in our research. This openness is key to RVC's strategy and expectations when disseminating research outcomes. Thus, RVC is a signatory to the Concordat on Openness on Animal Research and was one of 13 UK organisations awarded Leadership in Openness designation (2019-2022).

Best clinical care and opinion: The confident, caring and informed manner in which our clinical teams engage the public (owners of animals we treat) is critically important to the success of our hospitals. Detailed and timely feedback to general practitioners who refer these animal patients is an important part of our knowledge exchange strategy.
General practices provide data for research on disease prevalence and risk factors (such as breed) through our Vetcompass system, results of which are made accessible to the general public and veterinary professionals through infographics, factsheets and case studies (https://www.rvc.ac.uk/vetcompass); and via our strategic partner, the Kennel Club, to inform their breed health monitoring schemes.

RVC academics are members of many professional colleges in leadership roles, and our independent expertise is also offered through CPD for vets and vet nurses from many areas of clinical practice (see: https://www.rvc.ac.uk/study/cpd).
As part of our institutional Knowledge Exchange Strategy 2021-25, we will utilise a range of indicators to monitor the success of our individual and aggregate Public and Community Engagement (PCE) activities. A co-ordination role is being established to accelerate progress.
We have increased our focus on local community engagement in both Hertfordshire and Camden, with dedicated professional staff, education events for local schools and community groups and the extension of RVC facilities to the locale. Queries from the wider community are routed through our Business Development Manager who ensures appropriate internal direction.
Self-assessment score
Developing your strategy
3
Aspect 2: Support
Networks for PCE
RVC staff are involved in a wide range of public service activities, including:
Working with London's Knowledge Quarter and the Boroughs of Camden and Islington on 'KQ 2025', a spatial plan for the area within a mile of King's Cross (see: https://www.knowledgequarter.london/download/kq-2025-strategy/);

Engaging with the local business community in London, e.g. via Camden Town Unlimited, a group dedicated to supporting business improvement and resilience (see: https://www.camdentownunlimited.com/team);

In Hertfordshire, RVC provides the chair for the Welwyn Hatfield Business Forum, a Borough initiative to support and engage with local businesses.
Training / CPD for PCE
The RVC's External Relations team, supported by external experts, offers bespoke media training, support and advice to all staff (research, clinical and teaching) engaged with the media and public engagement.
Website and social media
Our website (www.rvc.ac.uk/) provides information on RVC activities, e.g. clinical or research, organised to ensure that each strand is cross-referenced with associated information. For example, clinical treatments are linked with research, providing context and illustrating research impacts. Content is organised for various audiences (e.g. potential students: www.rvc.ac.uk/study; or local neighbours: www.rvc-is-open-for-all/rvc-in-the-community). Events are prominently promoted and news is served both from the homepage and in specialist sections. Social media is actively managed and has seen continuous growth, with 107% increase in 'reach' since 2017.
| RVC Social Channels | 2017 | 2020 |
| --- | --- | --- |
| Followers | 200,785 | 247,369 |
| Engagment (e.g. likes, comments) | 470,116 | 481,489 |
| Reach | 3,403,088 | 7,029,766 |
Staff participation
Academic staff are expected, and postdoctoral researchers are encouraged, to engage in PCE activity. Academics are set public engagement objectives that form part of activities contributing to their probation and promotion pathways (Individual Career Pathways), and appropriate training is provided.
Formal representation in governance roles
In addition to lay members who sit on RVC Council, representatives from the wider community participate fully in our Ethics and Welfare Committee (EWC), Animal Welfare and Ethical Review Body (AWERB) and Clinical Research Ethical Review Board (CRERB). These are: (1) An independent member of EWC, co-opted from the community or charity sector; and (2) Lay Panel member – we have three lay members that rotate between the three committees on an annual basis.
Self-assessment score
Support structures and recognition
3
Aspect 3: Activity
RVC delivers the following activities:
Education
Our Widening Participation programmes aim to provide opportunities for disadvantaged and under-represented pupils to experience higher education. We do this through on- and off-campus workshops and courses, online resources, working with external partners (e.g. UniConnect) and offering bespoke support. 'Animal Aspirations', a student-led initiative, began in January 2019, in partnership with the RVC Widening Participation team. It consists of an ethnically-diverse group of veterinary students aimed at engaging school students from varied backgrounds through interactive animal and science-focused workshops. We promote diverse role models and break veterinary profession stereotypes by having a positive online and social media presence.
Through networking and building connections, we aim to increase our impact and reach more young people, teachers and parents.
The RVC's academics are often used as experts in documentaries for the BBC. In January 2018, Professor Alan Wilson featured in 'Big Cats' on BBC1, which reported on his research into cheetah locomotion and hunting behaviour (TV 'live' audience = 4.75 million people, see: https://www.bbc.co.uk/programmes/b09pzcg9). Such programmes achieve extremely high viewing figures, win international awards – including the prestigious Jackson Hole Wildlife Film Festival award for a conservation film – and bring scientific research to a huge international audience.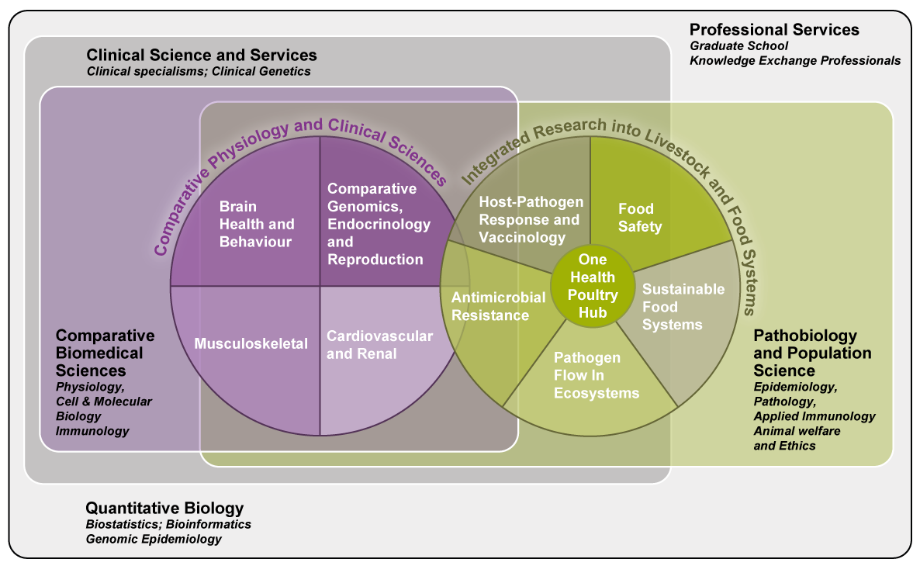 Discovery and translation of new knowledge
We collaborate with business and industry to ensure that our world-class scientific and clinical expertise is used to improve human and animal lives. Our business team works to identify, protect, develop and commercialise intellectual property, and strengthen research collaboration.
We also have partnerships with policy-related organisations, for example, the UK's Animal and Plant Health Agency, to which we provide expertise in veterinary epidemiology, virology and pathology. International partners include the UN's Food and Agriculture Organisation.
Best clinical care and opinion
We run events for animal owners to provide education and support, making materials available digitally. RVC also works with specialist groups (e.g. Kennel Club) in an effort to educate the public on the health risks of brachycephalic dogs, and to encourage changes in human behaviours to improve animal well-being. Many of our clinics have a research emphasis, enrolling patients and their owners in longitudinal studies, requiring owner commitment.
Community
'Night at the Vet College' (running since 2012) is hosted every six months with external sponsorship and involvement from our hospitals, academics and students, and external experts. These events are aimed at the public (ages 16+) and showcase our academics' work, with stalls, discussions and demonstrations. They have focused on diverse zoological interests including: 'Awake' (November 2018, in partnership with Physiological Society and Kentish Town Farm); 'Dawn of the Dinos' (April 2019, linked to Professor Jon Hutchinson's European Research Council Advanced Grant, see: https://dawndinos.com/) and 'Life at the Limits' (November 2019). Our spring 2020 event, 'Reproduce' (postponed due to COVID-19 restrictions), was supported by the Society for Reproduction and Fertility. Past events have also been sponsored by industry. The Life at the Limits event welcomed over 500 people who took part in live experiments, heard expert talks, and saw birds of prey in action. From 2013-2019 the majority of 800 free tickets were booked, resulting in an average of 550 attendees at each event.
Night at the Vet College provides a great platform to reach young people and inspire them. Feedback is sought from attendees, and reported internally to develop content for future events.
The RVC is committed to working alongside our community to form strong partnerships, engage in community groups (e.g. we provide the chair for the Knowledge Quarter Community Engagement sub-group), and build lasting, beneficial community projects. We attend community events in Camden and Hertfordshire, and support local homework groups.
'Open Farm Sunday' invites the local community to visit our farm each year with 220 attendees in 2019. The farm also hosts educational visits for local schoolchildren.
Measures
Our work is readily accessible on the RVC website, and this transparency led to our receipt of the Leadership in Openness Award (2019). Also, in 2019, Professor Dominic Wells received an award in recognition of his PCE work including regular discussions with the media, MPs and other stakeholders on the use of animals in research – see: https://www.rvc.ac.uk/research/news/general/rvc-professor-awarded-for-outstanding-contribution-to-animal-research
In 2018, RVC won the Media Engagement Award at the fifth annual Understanding Animal Research Openness Awards, for work on DMD and subsequent sharing of this research with the media (see: https://www.rvc.ac.uk/research/news/general/a-study-conducted-by-the-royal-veterinary-college-in-collaboration-with-ut-southwestern-medical-center-demonstrates-the-potential-of-gene-editing-technology-to-treat-duchenne-muscular-dystrophy).
Self-assessment score
Delivering your strategy
4
Aspect 4: Results and learning
Education
Evaluation reports assess the impact of RVC events using the evaluation framework 'SPEAK' (Skills, Place, Emotion, Attitudes and Knowledge), as well as formative aspects such as event logistics. Evaluation demonstrated that on average, 50% attendees had never visited the RVC before. Audience segments included curous public, with no science background, and were not friends and family of RVC. Therefore, we were confident that we had reached new audiences.
We also evaluate the impact of the events from feedback of RVC staff and students taking part.
Discovery and translation of new knowledge
RVC has showcased its research at various public exhibitions held in London. In 2017, Sharon Kendall's research team created a game for visitors to play at the Royal Institution's Family Fun Day, to inform on the use of 'knockout' technology in healthcare. Participants were encouraged to shoot sponge balls at 'genes' on a washing line. These genes could be 'knocked out' to create a mutant strain of the Mycobacterium tuberculosis. Feedback was so enthusiastic that in 2018 the same team participated in the Royal Society's Summer Exhibition, a week-long public engagement event involving 42 RVC staff and students.  Over the course of the exhibition, the Royal Society welcomed around 14,000 visitors through its doors, including members of the public, school students and representatives from media, Government and policy influencers.
Following the great feedback from this event, RVC created a stand focusing on our bio-robotics work for the 2020 Summer Exhibition (postponed).
Best clinical care and practice
All RVC hospitals regularly seek formal and informal feedback from clients and referring vets. This is measured and used to benchmark the services provided, with adjustments made where necessary.  
Self-assessment score
Evidencing success
2
Aspect 5: Acting on results
We have used the NCCPE EDGE tool and recognise that whilst we are a small institution, and limited by resource, there are changes that can be implemented to improve our current offering, and engagement within RVC.
Over the course of 2020-21 we will bring together the key partners in our Professional Services departments to develop a more co-ordinated approach to PCE, learning from the success of colleagues in the Widening Participation team to provide better foundations for those in other departments. We will review of current initiatives in PCE, leading to a refreshing of our approach in 2021-22, establishment of a new cross-College co-ordination role, and the development of 'smart' KPIs for PCE.
Self-assessment score
Communicating and acting on the results
2