Institutional Context
Summary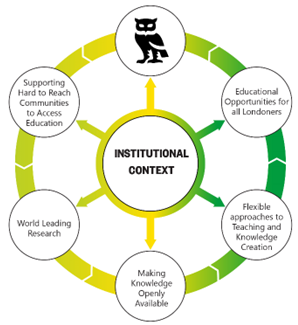 Founded in 1823 to provide educational opportunities to working Londoners, Birkbeck, University of London has a long and proud tradition of opening up knowledge for the benefit of society.

As the only specialist provider of genuinely flexible evening higher education in the UK, we are singularly well placed to translate knowledge into the wider economy both through our research and through the state of the art education we give to a truly unique student body. Our students are highly diverse, non-traditional, often employer-supported and always exceptional.

Our academics focus on their research and on supporting our diverse student body, maintaining our position as a world leading research institution with a commitment to open, accessible, critical, reproducible and usable research.
Institutional context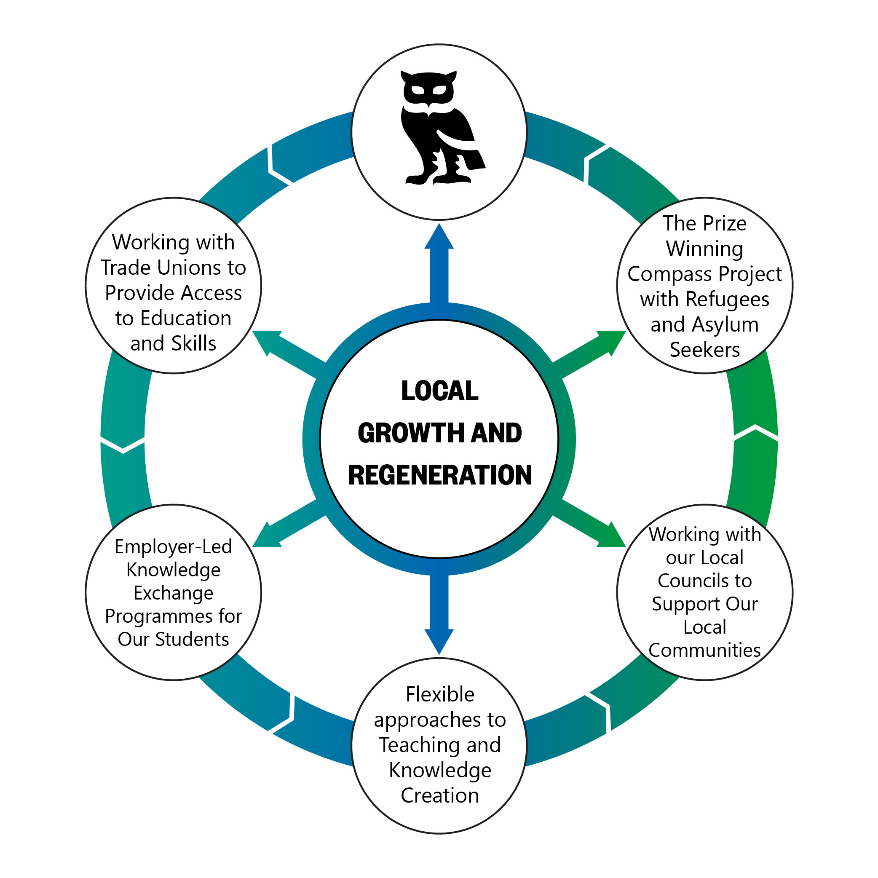 For 200 years, Birkbeck's mission has been to make knowledge more open and accessible for anyone who can benefit from this knowledge.
Our strategy is to target people traditionally marginalized from higher education, and rests on a foundation of expanding education and professional/knowledge-based development opportunities. There is no "one size fits all", we tailor our approach to the specific needs of our audience, routinely working with employers, trade unions, local councils, NGOs etc. to deliver our mission.
Implicit in this is the recognition that we have a duty to our students to provide an educational offer which is recognised to be of the highest standards globally (http://www.bbk.ac.uk/news/birkbeck-in-global-top-100-for-latest-qs-subject-rankings), with research led teaching and skills employers value front and centre.
REF2014 results confirm that our research is genuinely world leading. Given our strong societal mission it is unsurprising that the focus for research-based knowledge exchange is more commonly associated with cultural, societal and policy interventions than with commercial exploitation. The College is heavily inclined towards making the findings of its research openly available under terms which allow re-use, e.g.
Birkbeck Graduates are the 11th highest earners among UK graduates and seventh highest in London, according to the 16/17 LEO dataset, the most recently available data.
Our flagship employer-led student knowledge exchange programmes include:
the Santander-backed Pioneer and Emerging Entrepreneurs programmes, delivered with entrepreneurs and business experts

bootcamps with the Association for Independent Professionals and the Self Employed 

the Upskill Programme, which gives (especially) women and BAME students access to opportunities in tech

skills swaps amongst students

an in-house professional recruitment agency (334 students placed since 2016).

400 mentors from Alumni and business
The College has five Schools (Arts; Business, Economics and Informatics (BEI); Law; Science; and Social Science, History and Philosophy (SSHP)) and 19 Departments (http://www.bbk.ac.uk/departments/). We cover the spectrum of arts, humanities and social sciences but do not have medicine or engineering. Exemplar knowledge exchange activities include:
The School of Arts hosts the Mapping Museums project which has analysed the UK museum sector from 1960-2020 in partnership with museums and their representative bodies.

The School of BEI worked with the London Ambulance Service to improve their response times

The School of Law produced the "developing an evidence based police degree holder entry programme" report for the Mayor of London (https://www.london.gov.uk/sites/default/files/debpdhp_report_final.pdf)

The School of Science is home to the BabyLab. BabyLab research supports parents to make informed decisions (e.g., the use of touchscreens is associated with less sleep, but earlier development of fine motor skills). Many babies across London (and beyond) have given their time to this world-leading research.

The School of SSHP advised the Bacton sandscaping scheme to address costal erosion, protecting Bacton gas terminal which provides 1/3rd of the UKs gas supply.
Local Growth and Regeneration
Summary of approach
Geographically, Birkbeck prioritises local growth and regeneration activities in London and the two areas where we have campuses, Camden and Newham. Our approaches are bespoke to the requirements of the respective communities. With support from our academic and professional services colleagues, we encourage individuals who are traditionally marginalised from education to take advantage of professional development courses and (higher) education provision. Working with local authorities, we help Londoners get jobs and opportunities to better their quality of life, supporting London to achieve a brighter and more sustainable future.

Outside these boroughs, this mission extends to other hard-to-reach communities who are not defined by geography, such as asylum seekers, people from low income households, trade union members and so on
Aspect 1: Strategy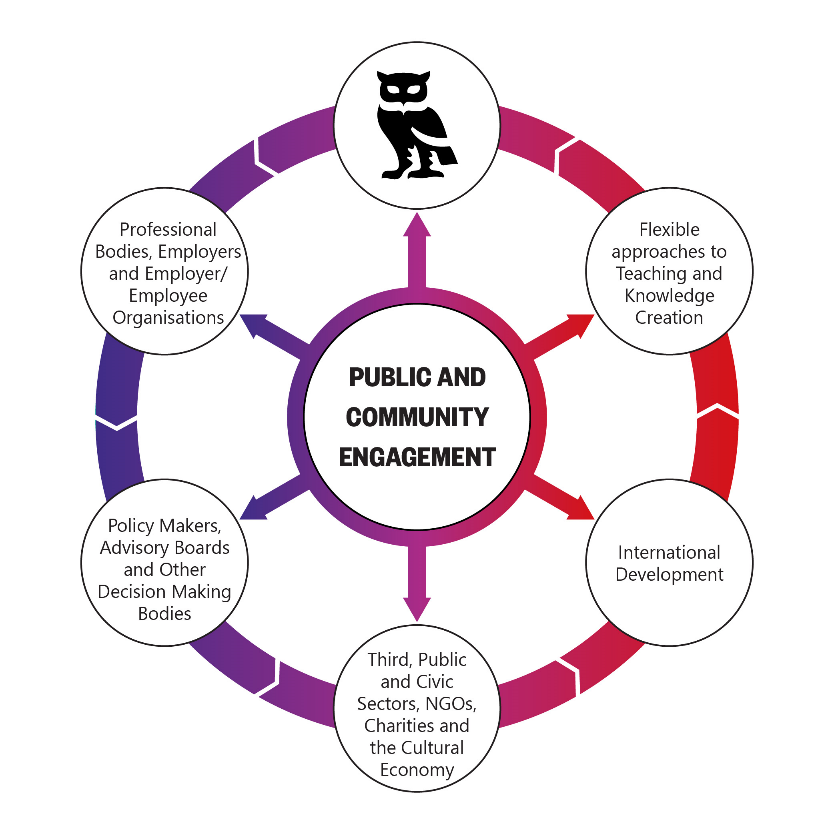 Birkbeck embodies the civic role of universities and had board-level representation on the Civic Universities Commission, the Centenary Commission on Adult Education, the Labour Party's Lifelong Learning Commission and other similar bodies.
We offer all Londoners a foundation to expand their education and professional development, directly through skills and indirectly through research. We deliberately target people who are marginalized from (higher) education and to support them to gain skills and improve their prospects.
This is a 21st century representation of our 19th Century mission to bring knowledge and education to working Londoners.
Working with London Boroughs
Birkbeck works across London but has a key focus on its home boroughs, Newham and Camden (combined population of approximately 620,000, larger than Bristol or Liverpool). According to government data Newham has a 48% poverty rate (second-highest in London) and Camden is London in microcosm, with some of the UKs most wealthy streets sitting a stones-throw from areas among the 10% most deprived in England.
The Compass Project
Communities who are marginalized from HE are not exclusively geographic, so we also proactively engage with other educationally hard-to-reach sectors of society, for example through our prize winning* Compass Project which reaches out to help refugees and asylum-seeking communities access education. We provide information, advice and guidance to those wanting to enter HE and, since 2017, have given 80 asylum seekers in the UK an opportunity to study at university through a sanctuary scholarship. 
Family Learn
Family Learn is a University of London initiative which encourages secondary school pupils who are unlikely to attend university to apply. While other institutions focus on school pupils, Birkbeck targets their parents (who usually haven't had experience of university either) to introduce them to the prospect of studying themselves.
Working with Trade Unions
Birkbeck has strong ties to Trade Unions and is the only university in the country to offer a blanket discount to unions for professional development advice and career up-skilling. This £0.5 Million a year investment is integral to our commitment to supporting working Londoners.
We support Trade Unions (PCS, Unison, Unite, USDAW, and Communities among others) with sector-specific careers advice, further/higher education advice, support on job applications, etc.
We also work closely with UnionLearn in the TUC main office in Camden who we support to raise the profile of HE amongst their membership, particularly those in low-skills and low-paid employment.
Working with Employers
Many London employers recognise and value the transformative effect a Birkbeck education can have on their business. Every year IRO 500-550 students are sponsored by their employer to study with us (ca. 10% certificates/foundation, 15% undergraduate, 55% Masters, 10% PhD, 10% other courses).
Across all our cohorts, IRO 40% of students work full-time while studying and a further 25% work part-time. Most receive support from their employer, ranging from (full/partial) fees to study leave and other in-kind support. 98% of all Birkbeck students are in work or further study after graduation.
Employer-Led Knowledge Exchange Programmes
Our employer-led student knowledge exchange programmes routinely draw IRO 3500-4000 hours of expertise from our alumni and corporate partners per annum. We work with employers to ensure our students have skills employers value.
These programmes include:
the Santander-backed Pioneer and Emerging Entrepreneurs programmes

The UpSkill Tech programme, funded by The J.P. Morgan Chase Foundation, which develops students skills in technology and also gives (particularly female and BAME) students access to opportunities in the tech sector.

bootcamps, in partnership with the Association for Independent Professionals and the Self Employed 

skills swaps - our students swap their existing skills to develop their businesses

Birkbeck Talent, our professional recruitment service

mentors and careers clinics from our Alumni and London businesses

the Ability programme, which places students with disabilities and neurodiverse conditions
Knowledge Exchange through Research
Our knowledge exchange strategy for research prioritises working with the most appropriate partners be they local, regional, national or international, or from the private, public or third sectors. This is described more fully in our Public and Community Engagement narrative. However, there are synergies between this global perspective and this local growth and regeneration strategy, for example, our researchers:
work with museums and galleries across the UK (including large, nationally important institutions based in London) to understand the legacies of slave ownership in their collections

worked with London Ambulance Service (through a student and LAS employee) to design a graphical interface to manage call outs and improve response times, a system which has been in use since 2012. LAS coordinates 800 ambulances to address the 1.5 million calls they receive in a year, ensuring anyone can be reached within a target of eight minutes. This is a fantastically complex task, with ambulance availability, their location, road conditions and road closures constantly changing.

were commissioned by the Solicitors Regulation Authority and the Bar Standards Board to investigate judicial perceptions of the quality of criminal advocacy to inform new training provision from these two regulatory bodies.

worked with parents across London (and beyond) to better understand babies brain development and to provide parents of babies with a high risk of developmental disorders with the skills and tools to effectively support their child's development

Led the development of the Layers of London website which brings together a really important collection of digitised historic maps, photos and crowd-sources histories provided by the public and key partners across London, including the British Library, The London Metropolitan Archives, Historic England, The National Archives, MOLA (Museum of London Archaeology) .
*2018 Guardian University Award, Widening Access Category
Aspect 2: Activity
Working with our Local Boroughs
Newham's motto is "Progress with the People", a sentiment which underpins our approach. Our activities have strong community involvement, are highly responsive to community needs, and are supported by both the local authority and the London Legacy Development Corporation.
We provide small-group skills workshops on CV-writing, writing applications, running community surveys etc.
Camden is the home of our primary campus so here we also work with the local council to tie campus improvements to better opportunities for residents; for example, recent planning permissions included 6 scholarships and employing 2 construction industry apprentices from Camden on the project.
The Compass Project
The Compass Project supports refugee and asylum seekers to access HE and was developed in partnership Article 26 (part of the Helena Kennedy Foundation), Student Action for Refugees (STAR) and Haringey Council, building on a partnership which had significantly increased the number of people from Tottenham studying certificate-level qualifications at Birkbeck.
Alix Partners (Z Foundation), Allen & Overy, Santander, Texel, Travers Smith and private philanthropists kindly support this outreach programme, helping to ensure that this continues as a sustainable part of Birkbeck's mission.
Family Learn
This University of London initiative targets children who are unlikely to apply to university. Birkbeck's role is to provide advice and support to Parents, in some cases encouraging them to consider HE for themselves; for example parents who run small businesses can (and do) sign up to do a Foundation Degree (four years, part-time to fit in with work and family commitments) to enhance their business.
Working with Trade Unions
Birkbeck is the only University to offer a blanket discount for Trade Union members; we also work closely with specific Trade Unions and Unionlearn (the educational arm of the TUC) to provide access to skills and certified courses for (often low skilled and low paid) union members to support their career progression.
Employer-Led Student Knowledge Exchange Programmes
Our employer-led, student programmes support the development of enterprise and entrepreneurialism and other transferable skills. By collaborating with employers to design these programmes, which include in excess of 150 industry led/partners workshops per annum, we deliver skills employers want.
Aspect 3: Results
Working with London Boroughs
A general indicator of the success of our various outreach programmes across London over the last 10 years is that in 2016 433 black women over the age of 50 had enrolled in the past 3 years – almost three times as many as a decade ago.
Over 17/18 and 18/19, our work in Newham directly engaged ca 635 residents, and we recruited IRO 750 students from Newham.
Activities included:
Into University: how to support your child in their learning, how to continue learning as an adult.

Uprising's Fastlaner's, a careers programme for underemployed/unemployed 18-25 year olds

Create Jobs, workplace employability programmes

Guidance for Study (Get Started workshops, drop-in sessions & Information stands in the community, information and advice workshops, the Postgraduate IAG programme to support postgraduate study, sponsored by £40,000 from LLDC; 31% of attendees received an offer from Birkbeck

Careers Support

"Dip-In" Learning
The Compass Project
In the last 3 years, the Compass Project has attracted 300 applications from asylum seekers, supported 80 into study at Birkbeck and a further 20 have progressed on to other HEIs and learning opportunities. No other University in the country runs such a programme and we are incredibly proud both of the students, and our sponsors, who also include the AlixPartners Foundation, Allen & Overy, the Blanes Trust and alumni.
We have also seen a 70% rise in the number of refugees studying with us, demonstrating our reputation as a 'institution of sanctuary' carries meaning within these communities.
Working with Employers
41% of all Birkbeck undergraduate students work full-time while studying, a further 24% work part-time while studying. Our employer-led student knowledge exchange programmes are developed in partnership with employers and 98% of all Birkbeck students are in work or further study after graduation. Birkbeck Graduates are the 11th highest earners among UK graduates and seventh highest in London, according to the 16/17 LEO dataset, the most recently available data.
Working with Trade Unions
Birkbeck invests approximately £0.5 million per annum to allow 500-600 trade union members to study with us in any one year through the Trade Union discount.
Work with Unionlearn includes case studies in their Green Skill Publications; Birkbeck staff also contribute to delivery of Unionlearn training (including webinar series during COVID-19 lockdown).
Examples of activities with Trade Unions: in branch Introduction to University Study workshops; presentations at Head Office training sessions; on campus Preparing to Study events offered across 14 unions; Higher Education for Union Learners workshops to support Union Learning Reps (typical attendance 34 attendees from 7 unions); Futureproof Careers series in partnership with Uprising charity (IRO 75 attendees) plus tasters, book groups etc.
Employer-Led Student Knowledge Exchange Programmes
Pioneer (supported by Santander) is an extra-curricular programme of workshops available to all students delivered by entrepreneurs and professionals. Students develop core skills including pitching, budgeting, networking, creating business plans etc. they have opportunities to create links with investors and pitch for funding/internships for their businesses.

Upskill: Tech (digital skills development funded by The J.P. Morgan Chase Foundation) In 2016–2017, approximately 1,500 students took part in training provided via online platforms to develop their digital skills. 89 placements and 20 internships were taken up.

Birkbeck Talent, our professional recruitment service placed 304 students in 2016.

Mentors and Careers Clinics match current Birkbeck students with alumni or corporate partners for one-to-one support. The Careers Clinic programme started in 2016 (37 alumni, IRO 225 students) and sits alongside our mentoring programme. Since 2012, >650 students have benefited from advice from established mentors, with corporate partnerships including PwC, Cancer Research UK, Fiserv, Ashurst and Arts Council England.

The Ability Programme (supported by £25,000 from The Ian Karten Charitable Trust) supports students and recent graduates with a disability/neurodiverse condition through skills development workshops, online resources and networking with employers. Last year the Programme facilitated twelve fully funded work placements, supporting employers to understand the way they could attract and accommodate employees with disabilities or neurodiverse conditions and encourage an open dialogue about the individual needs of the employees.
Changes Due to COVID-19
The pandemic has caused significant disruption in the delivery of our activities in Camden and Newham, as well as activities taking place within College premises. While certain projects have had to be suspended, we do recognize that our career and professional development activities will become even more critical as the economy contracts and significant shifts in the labour market occur.
We are committed to continuing our work with Trade Unions, our communities in Newham and Camden, and Londoners during this time.
Public & Community Engagement
Summary of approach
Birkbeck is a world leading research-intensive university.

Central to our mission is making the results of our research and expertise available through research-led teaching, public dissemination, partnerships with other organisations of all types, and the promotion of civic and public debate.

We have a long tradition of engaging with cultural, environmental, political, scientific, and social issues that demand fearless questioning and innovative approaches to be solved.

Our researchers believe in making knowledge openly available and accessible by promoting, contributing to and extending public discourses, and seeking out constructive partnerships to influence and inform groups such as
communities of practice (NGOs, social movements, public health etc.),

culture and society,

industry,

policy makers from private, public and third sector bodies.
Aspect 1: Strategy
Public and Community engagement are at the heart of Birkbeck's mission to increase access to knowledge and opportunity.
We make a difference to society through education (see local growth and regeneration template), public dissemination, and targeted knowledge exchange with communities including:
Third, voluntary and civil sector organisations, public bodies, NGOs, campaign/pressure groups; cultural organisations, the cultural sector and creative economy

policy makers, advisory boards/panels and other decision-making bodies including parliamentarians
and government departments
international agencies/(agencies for) developing countries

practitioners, professionals/ professional bodies; employers/employer organisations; industry

individual stakeholders/ direct beneficiaries

the general public and/ or specific communities within the general public
The College Research Committee, chaired by our PVC(Research) oversees our research,
public engagement and knowledge exchange/impact strategies. At least one dedicated post per School monitors, promotes and actively supports engagement with stakeholders in our research.
Other strategies relevant to our mission include our business engagement strategy (which is to build relationships with senior leaders around key themes, focussing on strategic challenges and solutions rather than single function transactions) and our strategy to recruit board-level representatives who support and enhance our mission, for example, Sir Harvey McGrath was Chair of Governors for 10 years to October 2019. He has also chaired many influential London groups including the LDA, the East London Business Alliance, Heart of the City, Prince's Teaching Institute, Big Society Capital (the UK's social investment bank) and the West London Zone, a charity that works with at-risk children in state schools in certain boroughs in London. Our wider governing body also brings expertise from accountancy and finance, business and enterprise, the 3rd sector, communications, investment and knowledge management, property, high tech, and legal and corporate services.
Self-assessment score
Developing your strategy
3
Aspect 2: Support
Our Development and Alumni Office and Business Services support apprenticeships, executive education, philanthropy, pro-bono /volunteering, input into courses, collaborative research, IP exploitation, analytical services/access to specialist facilities and expert advice. 
Our Access and Widening Participation Directorate engage with those who are currently underrepresented in HE through partner organisations including trade unions, FE, sixth form/adult education colleges, local authorities and third sector organisations.
Our Research Office support collaborative and co-produced research, in partnership with the Impact Officers based in Schools.
Birkbeck uses its presence on major social media channels to provide targeted information about Birkbeck's news, events and lobbying campaigns. Our social media links back to our website for more in-depth information.
Individual Academics are also supported to engage through training (part of our professional development framework) and direct financial support, including:
£2500 public engagement awards (Wellcome ISSF/SEE PER*)

£2500 translational awards (Wellcome ISSF)

£5000 seed funding (Research Innovation fund, Development and Alumni Office)

£5000 seed funding for researchers to consolidate the changes/benefits their research is generating outside the academy (central funds)

£10,000 seed funding for researchers to solve real problems in a developing country (GCRF QR)
(*ISSF: Wellcome Trust-funded Institutional Strategic Support Fund; SEE PER: UKRI-funded Strategic Support to Expedite Embedding Public Engagement with Research).
Self-assessment score
Support structures and recognition
3
Aspect 3: Activity
The UnLocke project (http://unlocke.org/) is Birkbeck's knowledge exchange approach in microcosm, characterised by longstanding relationships, participatory research, and our researchers being experts in their field. This is a traditional research project, building on our expertise in fundamental neuroscience, sponsored by the Education Endowment Foundation and the Wellcome Trust, undertaken in collaboration with the Institute of Education UCL, LEARNUS (an educational think-tank) and schools.

The project developed the 'Stop and Think' computer game in partnership with 89 schools and 6672 year 3 and 5 children. 'Stop and Think' is a short (10 weeks) low cost (£5/pupil over 3 years) intervention to build reasoning skills which generated 2 additional months' progress in science and 1 additional month in maths. Year 3 children with free school meal status benefitted most in maths, year 5 in science.

Other recent activities with our key communities include:

Third, voluntary and civil sector organisations, public bodies, NGOs, campaign/pressure groups; cultural organisations, the cultural sector and creative economy
working with UK Sport and Sport England to improve the diversity of board members in the sport sector (28 BAME board members appointed to date).

Supporting the local community to undertake The Grenfell Project (sponsored by HLF), documenting, preserving and exhibiting their experience of the fire and celebrating the community in all its diversity, resilience, colour and vibrancy. The archive will be held at Bishopsgate Institute.

Working with the Jewish Museum London to develop the Jews, Money, Myth exhibition which won the 2019 Museums Change Lives Award.  

The Embroidered Minds project helped to shape the (silver-gilt winning) Embroidered Minds Epilepsy Garden at the 2018 RHS Chelsea Flower Show

Me, Human, part of Live Science 2019 at the Science Museum, allowed members of the public to take part in experiments to learn how different sides of the brain control different activities.

The National Trust guidebook, Prejudice and Pride (co-authored by Professor Matt Cook) accompanied the first National Trust Challenging Histories programme.
Policy makers, advisory boards and panels and other decision-making bodies including parliamentarians and government departments:
Professor Marina Warner is the first female president of the Royal Society of Literature since its foundation in 1820.

Professor Leslie J Moran is a member of the Westminster Hate Crime Committee, the first initiative of this type in the country

Professor Paul Wat co-chairs a group of 20 community and faith leaders, experts, local residents and politicians helping Haringey become a fairer and more equal borough.

Professor Ted Melhuish presented about the impact early years education and social policy have on children's life chances to the Parliamentary Education Committee.
Birkbeck also actively works towards widening access to knowledge. We provided case study examples of outreach to disadvantaged adult learners for a project commissioned by the Office for Fair Access and directed by the Open University. The project report Understanding the impact of outreach on access to Higher Education for disadvantaged adult learners included a three-step "toolkit" to enable institutions to evaluate their efforts and approach to encourage disadvantaged adult learners.
International agencies/(agencies for) developing countries
Working with the UN on their language literacy policies and processes to make the UN more accessible to a greater number of member states

Welcoming IRO 20 Chevening scholars every year. This FCO scholarship scheme supports Masters-level study for future global leaders to help address economic, social and political issues on their return home.

Kew Gardens, the British Council and Birkbeck supported the Rio de Janeiro Botanical Garden to launch the Manual of Ethnobotany: Plants, Artefacts, and Indigenous Knowledge to reconnect indigenous communities with artefacts and botanical specimens and guide indigenous biocultural research initiatives.

The World Bank commissioned a report on the neuroscience of adult learning to improve the outcome of adult literacy programmes in the developing world. 
Practitioners, professionals/professional bodies; employers/employer organisations; industry
A commission from the Bar Standards Board and the Solicitors Regulation Authority to investigate the views of the judiciary on the current quality, provision and regulation of advocacy in the Crown Court to be used in training programmes run by both bodies.

A new occupational health board game to help clinicians manage (di)stress was launched in partnership with the NHS Practitioner Health Programme (a confidential award-winning treatment service for doctors and dentists unable to access confidential care through mainstream NHS routes) and Focus Games Ltd.

Our Mentoring Programme has matched 1000 students and mentors (our alumni and corporate partners) over the past three years. Mentors receive CPD credits for taking part.

The Rt Hon Sir Terence Etherton, until 11th January 2021 Master of the Rolls (head of the civil judiciary and the second most senior judge in England and Wales) is a Visiting Professor in the School of Law. Among other duties he lectures first-year students and contributes to our Judicial Studies module.

The College provides careers workshops in partnership with industry (50-100 per annum) as well as paid internship opportunities in SMEs (334 students since 2016)

Typically, IRO 500-550 (approximately 5%) of our students are directly sponsored by their employer to study with us

Birkbeck is a member of future.now, bringing together businesses, charities, government and educators to address skills and knowledge gaps for the millions of people who are not digitally literate. We are also members of the Institute of Coding, the CBI, the Knowledge Quarter and various other similar bodies

the Pioneer Programme supports students to develop smaller businesses who do not have the capital and are cut out from traditional avenues of funding.

Addiction to video games has recently been recognised by the World Health Organisation. Working with ESL (the world's largest esports company) we are recruiting people for the first test to check for 'gaming disorder'

With OptaPro we deliver a short course on Football Analytics to upskill sports and media professionals interested in data analytics.

CareTech Charitable Foundation donated £250,000 to the building of Birkbeck's ToddlerLab, a state-of-the-art research facility to better understand brain development/developmental disorders. The Foundation is part of CareTech plc, the largest private provider of support facilities for adults and children with physical and learning disabilities
The general public and/or specific communities within the general public
Birkbeck's award-winning Compass project supports asylum seekers to access UK HE.

Birkbeck Institute for the Humanities (BIH) has a global reputation for engaging the public through open debates, lectures, seminars and conferences. Birkbeck Institute for the Moving Image (BIMI) pursues an imaginative public-engagement agenda combining original and ambitious film curation with top-quality academic research; its audience for events which reaches across the globe.

Birkbeck's Centre for Building Resilience in Breast Cancer provides a psychoeducational support network for any woman with a breast cancer diagnosis in the UK and has c.1500 members. It provides a confidential and secure platform for members to engage in guided discussions and to promote resilience in the face of trauma. Its award-winning blog, 'Panning for Gold' (http://bcresiliencecentre.blogspot.com/) launched on World Cancer Awareness Day, 4th February 2016 and has had >75,000 visitors to date. 
Self-assessment score
Delivering your strategy
3
Aspect 4: Results and learning
Our Engagement and Knowledge Exchange strategies sit under our Research Committee and run for 5-7 years. Implementation and refinement of these strategies is considered as necessary between formal review periods.
Section Three (Strategy) gives examples of real projects we have undertaken. Each had a bespoke set of evaluation criteria derived from the following principles to help us to understand what works:
With research-based engagement, outcomes cannot always be accurately predicted in advance; we always allow a qualitative element of interpretation alongside more quantitative measures.

Engagement which is not research-based has success measures baked in from the outset but even here we apply the principles of the responsible use of metrics to all quantitative measures.

Many contracts for engagement require a formal report at the end of the project. Where our partner allows us to do so we make use of this information.

We make extensive use of feedback forms and sector advice on how to effectively evaluate.

In Schools professional staff work one-to-one with individual researchers to understand and quantify the change or benefit that they have brought about.

We have an active programme of engagement training for staff and research students.
Self-assessment score
Evidencing success
3
Aspect 5: Acting on results
Generally, and as illustrated in section 3 (Strategy) our engagement builds on longstanding relationships, ongoing participatory research, and our researchers being experts in their field.
Birkbeck's approach to engagement is always collaborative and mutually beneficial, and (in line with our mission) we engage specifically for the purposes of sharing knowledge outside the academy.
As part of our strategy to raise awareness of engagement activities, in 2018 we launched our Public Engagement Awards and from 19/20 onwards promotion criteria for engagement activities have been used.
Birkbeck is a proactive member of with a number bodies who advocate for our mission to increase access to knowledge and opportunity, including the CBI, London First, London Higher and the Knowledge Quarter. These bodies showcase best practice from our engagement activities (for example the CBI's response to the London Industrial Strategy cited our Pioneer programme for entrepreneurs, London Higher showcased our work with London theatres and the London Ambulance Service in a report about the value to London from its various universities).
Self-assessment score
Communicating and acting on the results
3