Institutional Context
Summary
Coventry University Group (CUG) has a distinguished history working locally, nationally and internationally to embed collaboration and maximise results with and for partners. Starting as the Coventry School of Design in 1843, as the Lanchester Polytechnic in 1970 and to the present-day, knowledge exchange has always focused on finding solutions to real-world challenges underpinning economic and societal growth. Local growth and community engagement are focused on the core needs of local citizens: - health inequalities, unemployment and developing holistic and targeted community support for longer term societal advancement and inclusive growth. Expansion has transplanted and transformed knowledge exchange from the City of Coventry campus to the CUG campuses in Scarborough, London, Barking and Dagenham and Greenwich.
Institutional context
Coventry University's origins date back to the Coventry School of Design in 1843, developing to the Lanchester Polytechnic (1970) and into a modern university in 1992. Coventry University Group (CUG) is proud of its heritage in Coventry and links with the local communities and industries. Linking CUG to the history of Coventry and its citizens is a core part of the growth and development of the Group and a strength in local and community engagement. Two examples are the Lanchester Archive and the research Centre for Trust Peace and Social Relations (CTPSR).
The Lanchester Library, on the Coventry campus, houses the publicly-accessible Lanchester archive, celebrating the life of Sir Frederick Lanchester and housing a collection of his patents, inventions and cars. The archive links current research and learning to a famous Coventrian, his many inventions and oddities which today can help citizens understand and appreciate intellectual property and the role of innovation. The archive is visited regularly virtually and in person by schools and groups, continuing the relationship the City has with Lanchester and his legacy.
The legacy of Coventry City as a city of peace and reconciliation began in 1940 and Coventry is now twinned in this with 23 cities across the world. The Centre for Trust Peace and Social Relations (CTPSR) reflects local expertise and the core values of the city, whilst drawing on a strong track record of research in integrated peacebuilding, trust and community relations. CTPSR exemplifies long-standing commitment to research that makes a strong impact on society and on the security and quality of life of ordinary people worldwide. The centre undertakes internationally-renowned research, with local impact and benefits delivered through community projects and outreach programmes.
More recently the place-based approach, and core ethos as a partner of choice supporting local economic and societal growth has been transplanted and transformed to new campus locations in the UK, providing the academic rigour and discipline of a University with flexibility to meet the needs of the local community. The CUG today comprises the Coventry city campus, CU London and campuses serving central London, Scarborough, Greenwich and Barking and Dagenham. Each campus supports the community local to it, through dedicated activity such as the Advisory Group in Scarborough and the Anchor Alliance in Coventry.
Understanding, supporting and working collaboratively with the areas in which CUG operates provides the central ethos of a strong enterprise strategy across CUG. Expanding KE activity is central to CUG's current and future (2021-30) strategy, and has been key to its growth to become one of the biggest undergraduate universities in the UK. Building innovation capacity and deepening commercial and community partnerships allows us to create solutions to local needs.
Current partnerships with leading industry and local delivery partners inform the next generation of knowledge exchange. For the CUG communities there is an urgent need to mitigate health inequalities and unemployment; our response has been the development of flexible personal and professional development, targeted programmes increasing innovation capacity and widening access to employment opportunities.
Local Growth and Regeneration
Summary of approach
Coventry University Group (CUG) is committed to Local Growth and Regeneration (LG&R) in the City of Coventry, and specifically in the geographical areas surrounding its campuses in Scarborough, Greenwich, Barking and Dagenham, and the City of London. Working closely with partners, LEPs, local government, and the regional Chambers of Commerce, the CUG delivers support relevant to local businesses and maintains long-term partnerships to further LG&R.
This is embedded in the CUG Strategy 2015-21, led by the Vice-Chancellor with the Group Leadership Team - investing in infrastructure, technology, local enterprise and social capital. The CUG approach is community building through local partnerships, responding to local needs as a collaborative partner: developing solutions for the local communities where CUG is embedded.
Aspect 1: Strategy
The CUG strategy promotes the growth of knowledge exchange through strong partnerships which respond to the needs of the local community and region; including unemployment, health inequalities, workforce development, and business innovation. Historically, CUG has always been an institution of the City of Coventry and for the City of Coventry. Over recent years this approach has taken this core belief of supporting the local city and region, and delivered in new areas with newly established campuses translating and transplanting the CUG approach to support the development, recovery and growth of these communities.
CUG has invested significantly in LG&R to support this aim. Dedicated staff (led by the Group Leadership Team) provide a coherent structure for LG&R activities that are measured and evaluated in line with organisational aims, values, and the needs of the local community.
City of Coventry – The City of Coventry is home to the University. From being a College of Design in 1843 through to the amalgamation of Lanchester College of Technology with Rugby College of Engineering Technology to becoming a Polytechnic and, subsequently, Coventry University in 1992. CUG contributes to the continued economic and societal growth of the City as a partner of choice embedding collaboration and maximising impact with and for partners. Programmes for local growth and regeneration focus on the local needs and targeting activity for public and community benefit. Building economic and societal growth, delivering personal and professional development for local citizens and widening access to employment. The recently announced (August 2020) Project Sherbourne will continue the development of Coventry as a leading digital city bringing together digital technology, infrastructure and services to rapidly transform multiple industries and create opportunities for further digital transformation. Supporting large-scale development and change for the whole of the City ecosystem is central to the role of CUG in Coventry City.

CU Scarborough – The North Yorkshire campus opened in September 2016 as a direct response to local demand for continuity of higher education provision in the town as a long-standing provider was pulling out. CU Scarborough carries forward the same ethos as Coventry: a focus on health inequalities, shaping the future of healthcare and holistic, targeted community support are central aspects of the local need in the Town. The campus has become a central point for local growth initiatives, providing a range of education options with the academic discipline and rigour of a university but the flexibility to meet the specific needs of the local community (including pioneering a Saturday delivery option). Furthermore, the campus provides a central community link to CUG research, graduate employment and placement and support for local businesses.
CU London (Barking and Dagenham) – Barking and Dagenham has been identified as one of the areas designated as a national priority for urban regeneration. The borough has also historically underperformed in comparison to other London boroughs on a number of key indicators such as education and health outcomes. CUG identified Barking and Dagenham as a "cold spot" for access to higher education and skills, and believed it could offer the local community an opportunity to access higher education. CU London is supporting efforts by the local authority to address some of the challenges it faces, specifically increasing the number of teachers trained locally, tackling issues with crime and policing, and supporting the development of the local creative arts industry.
CUG has commercial subsidiaries operating in a regional, national, European and international context as part of the Group-wide strategy to undertake a variety of LG&R activities which support and engage with local SMEs in terms of growth and productivity.
Aspect 2: Activity
Working with partners ensures the focus of projects is identifiable and deliverable, meeting the needs of local businesses and the community. Examples of projects delivered recently across the Coventry, Scarborough and Barking & Dagenham campus sites are provided here: -
Project - Innovate2Succeed (i2s)
Innovation management support for growing businesses across the East and West Midlands
Need:- local scale-up support for ambitious businesses to expand and succeed
Audience: - SMEs across the Midlands
Project : - i2s is an innovation management support programme designed to help companies to scale-up through innovation. The i2S project works with businesses to rapidly commercialise concepts and nurture innovation with a regional context to develop success across the Midlands.
The support is specific to each SME, and takes account of the business itself and the support system available locally to create success.
Outcome - To date this project has engaged with over 300 companies and has been extended to provide further business support.
Acting on Results to provide a COVID-19 Response
Working with InnovateUK to support businesses with the pandemic response, a specialist COVID-19 service is now being delivered on behalf of InnovateUK by the University Group through to March 2022.
The project goes beyond i2s to deliver an enhanced Survive, Stabilise and Grow business support programme as part of the InnovateUK COVID response. The project falls under COVID measures announced by HM Chancellor of the Exchequer, as InnovateUK have been awarded £1.25BN to support new and existing recipients of InnovateUK grants and loans. The University Group have been selected to receive £2,268,000 to deliver a specialist expanded COVID service from July 2020 to 31st March 2022.
The action will help innovative businesses to survive these challenging times and be equipped to bounce back by delivering support to innovative high growth and scaling businesses.
Project - Coventry & Warwickshire Green Business - supporting businesses to develop low carbon technologies and implement improvements to energy and resource efficiency.
Need : - Responding to the strong advanced manufacturing base in Coventry and Warwickshire and the Science Innovation Audit for the Midlands Engine (2016), providing support for new technology and product development in low carbon energy solutions.
Audience :- West Midlands SMEs developing low carbon products, technologies and services
The project:- support on sector-specific business-related topics such as current/future technology developments, market intelligence/opportunities and legislation. Grants of up to £20k are also available to businesses supported to support the commercialisation of new products and Intellectual Property Rights.
Outcome - This project has engaged with 45 companies to date, and has supported 20 grant applications.
Project - Digital Advantage – support and encouragement for SMEs in North Yorkshire to make better use of digital technologies – Scarborough Campus Lead.
Need:- Digital skills gap in the area's high growth Creative and Digital sectors (identified in 2018 report following the growth of new digital/creative start-ups after Hull City of Culture 2017)
Audience: - SMEs in North Yorkshire with a digital skill need
The project was devised to help businesses in the North Yorkshire area to enhance their use of digital technologies to improve competitiveness. The project delivers free one-to-one and workshop support to SMEs with the possibility of a follow-on grant to cover the cost of employing a specialist to address business specific digital issues that the company is experiencing.
Outcome:- To date this initiative has led to over 250 SME engagements with 60 grant applications.

The mobilisation of nursing students in Scarborough as nursing support staff
Need: - To bolster NHS nursing staff numbers at a vital time in April 2020.
Audience: - NHS Scarborough hospital, St Catherine's Palliative Care Hospice, and the wider community of Scarborough Town
The Project was initiated by the deep links CU Scarborough has with the NHS in the area and trains nurses in a region where the NHS has struggled to recruit. The project provided student nurses to work as nursing support staff four days per week at the hospital, and one day a week on their academic studies, as part of their course and placement. The students reinforced local NHS staff numbers at a crucial time. Alongside the reinforcements to the workforce, donations of Personal Protective Equipment (PPE) to frontline workers in the local area were made from stock at CU Scarborough to tackle the Coronavirus outbreak at both Scarborough Hospital and St Catherine's, a palliative care hospice in the town.
COVID-19 Response Activity – Overview
The close relationship between Coventry University and its local communities and partners has been exemplified through multiple activities responding to the pandemic. Reflecting a strong sense of place and community cohesion, Coventry University staff and students have been helping our public services, working rapidly, efficiently and at a local level. Examples include:
More than 25 PhD students volunteering to help University Hospitals Coventry & Warwickshire with COVID-19 testing, and 50 paramedic students taking up frontline roles with West Midlands Ambulance Service to assist with emergency responses across the West Midlands. A first-hand student account can be read here.

The University worked with partners to donate, create, and deliver equipment and PPE to local partners in the fight to control COVID-19 in March-April 2020. The Coventry City based FabLab created and donated 900 PPE masks Coventry and Warwickshire NHS Trust.

400 pairs of safety goggles and 90,000 pairs of gloves were donated to Warwickshire County Council's public health team for use in care homes. Academic staff helped develop a rapid test to assess the effectiveness of stockpiled PPE, responding in days with high quality research to create life-saving results
Aspect 3: Results
Annual reporting on activity and outcomes, combined with evidence of local needs helps to steer the future direction of CUG. In Coventry itself, local partnerships (with organisations including the West Midlands Combined Authority, LEPs, and active memberships of the West Midlands Combined Universities and Midlands Enterprise Universities) keeps the strategy for LG&R projects in line with the changing needs of the local and regional community. Close partnerships with local anchor organisations such as NHS Trusts, City Councils and larger businesses such as the Unipart Manufacturing Group, Severn Trent, and Jaguar Land Rover ensure that initiatives are driven by the largest needs where the niche skills of the CUG can be delivered to the greatest effect.
CUG's approach is data and research driven, and analysis of economic activity engagement with participants is key to understand not just the success of projects, but also any failings, to learn and adapt the scope and delivery.
Regular meetings take place between CUG and the funding bodies, to provide reciprocal updates on progress and delivery. This has been of particular interest in the current situation with the COVID-19 pandemic, where CUG's flexible and dynamic teams have continued to deliver the projects by using alternative methods (e.g. online teaching, mentoring and collaboration).

Aspect 2: Activity
shows the individual results and outcomes achieved from some of our projects. The CUG Strategy is to embed local growth and knowledge exchange aims across the organisation, and bring together projects under that single aim. Projects focused on innovation, design, high performance automotive engineering, health, environment and ICT are particular areas of interest. Through this activity in the recent 3 years 45,049 Small-to-Medium-sized Enterprises (SMEs) have been supported through LG&R projects.

COVID-19 Case studies

In June 2020 the University Group social enterprise Hope 4 the Community (H4C) was named one of NatWest's "Top 25 Trailblazing Newcomers" for its work helping people living with long-term medical conditions. One of its projects, the Hope Programme (which helps people living with a long-term health condition), has had huge online delivery demand during the pandemic lockdown. In response to this, H4C has expanded the delivery of the Hope Programme, and has recently been commissioned by the NHS to provide the Hope Programme to thousands of people across the South West region.

Translating expertise gained through the Innovate2Succeed project, SME business Data Language Ltd have upscaled their artificial intelligence (AI) tool to support their long-term clients, Cochrane, to deliver a rapid evidence synthesis tool to understand and release important health data to support the development of COVID-19 health strategies. The study register itself is available here:  https://covid-19.cochrane.org, and associated press releases from Cochrane and  Data Language also available for more information. The work has enabled Data Language Ltd to quickly react and create products for its largest client, and to produce a useful and important resource to be used on an international scale to understand patient data and implement effective strategies in response.
Public & Community Engagement
Summary of approach
Coventry University Group (CUG) has an historical bond with the people of Coventry that has developed and grown with the communities surrounding its campuses across the UK. CUG aligns its institutional interests with those of the local communities in each campus location, focusing on societal advancement and inclusive growth. The approach to community engagement is informed by the economic and societal needs of local residents, and is embedded across teaching, research and knowledge exchange whilst prioritising issues associated to place. We co-create, co-invest, and co-deliver with our communities through research, events, student and staff volunteering, and direct community-facing programmes to meet real-world challenges. Collaborating as a partner of choice embedding and maximising the benefits for the surrounding community.
Aspect 1: Strategy

Public and Community Engagement (P&CE) is core to our 2015-2021 University Group Strategy with its focus on access and inclusion, health and wellbeing, and social enterprise; and within our emerging 2021-2030 strategy through prioritisation of social impact (people, place and partnership). We fully recognise and embrace our role as an anchor institution and civic university.

Working with organisations including: the One Coventry Partnership, Anchor Alliance, Cultural Place Partnership, Health and Wellbeing Boards and Local Enterprise Partnerships, we prioritise and respond to local issues and needs, combining resources and expertise with our collaborative partners. We have delivered an integrated approach to P&CE, recognising the interaction and connections between education, health and wellbeing, economy and enterprise, cultural and creative economy and community engagement. Through our strategic approach to P&CE we have:
Engaged our local communities in education, supporting personal and professional development

Engaged our students and learners in social responsibility, public and community engagement, third sector partnerships, and social enterprise

Addressed health and wellbeing issues within our communities to support inclusive growth.

Maintained a central role in cultural and creative activities with our local communities.

Enhanced our provision of dedicated business and social enterprise incubation, student-centred enterprise and start-up services.
In response to the COVID-19 pandemic we have undertaken extensive engagement to help our communities manage, respond and recover. This has included: employment of graduate NHS nurses and ambulance staff; use of buildings and equipment; community volunteering programmes; funding of cultural and creative projects for local artists; widening participation activities and support for remote working.
As a member of the Civic Universities Network, we have committed to developing agreements in Coventry, Dagenham and Scarborough, working in partnership with local government and other major institutions. We established an initial framework in Coventry which has evolved into an anchor alliance for Coventry and Warwickshire through a strategic partnership with our local authorities, NHS trusts, the Coventry and Warwickshire LEP and the University of Warwick, with emerging priorities on education, health and wellbeing, enterprise and economy, employment and collaboration. Similarly, in Scarborough, we have defined our commitment through the establishment of a stakeholder advisory group.
Self-assessment score
Developing your strategy
5
Aspect 2: Support
We prioritise issues around place, working with anchor institutions and community organisations to respond to local needs and address specific challenges within our communities. We deliver an integrated approach to social impact, recognising the interaction and connections between education, health and wellbeing, economy and enterprise, cultural and creative economy and community engagement.
Examples of localised, responsive programmes are provided below:-
Social Enterprise
CUSE supports the creation and development of social enterprises by University staff, students and the community to support the growth of a wider social economy. Supporting and training citizens to respond to challenges in the community. CUSE creates a strong relationship between the student population in Coventry and the wider community, delivering targeted community contributions such as volunteering schemes including Student Wardens and Enactus (a project encouraging innovative solutions through social enterprise projects locally and internationally). Established in 2014 the work will continue into the future as Coventry and Warwickshire remains a Social Enterprise City,
UK City of Culture 2021
As a principal partner of the City of Culture Trust, and with Pro-Vice Chancellor Judith Mossman a Trustee for the Trust, CUG is engaged and committed to delivering a successful year of culture in 2021 reflecting the range and breadth of local arts and creative industries. CUG is holding competitions through 2018 - 2022 offering seed funding for projects for UK City of Culture 2021. The first round of applications supported 14 projects, ranging from a documentary film capturing the oral history of Coventry Evening Telegraph employees; an exploration of the influence of Coventry on the life and work of author George Elliot; creating a kegged local beer fermented using indigenous yeast and bacteria through to film and podcast history of dance in the City.
MIRA Technology Institute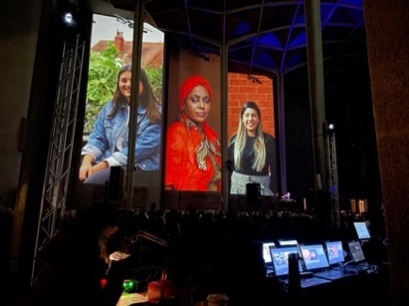 The MIRA Technology Institute (MTI), is a global centre for automotive skills co-located with West Midlands industry partner HORIBA MIRA. Delivery is through apprenticeships, undergraduate and postgraduate courses, CPD and short courses. Continuing to meet industry needs, in 2020/21 the partners launched the Connected Autonomous Vehicle Systems (CAVS) MSc, a unique blend of blend of practical and taught elements, designed to equip learners with specialist skills.

Greenwich School of Management (GSM)

In 2019 GSM was educating 3571 students, but was placed into administration on 30th July. Coventry University Barking and Dagenham stepped forward to continue the education provision for local students.  CUG put a smooth transition in place ensuring continuity by making sure GSM students had the required number of credits, were being placed on the right module and course level, and met entry requirements. This approach showcases the values and ethos of CUG and called for a wide range of staff to work tirelessly to deliver for local students to ensure that as many people have access to higher education as possible.

Self-assessment score

Support structures and recognition

4
Aspect 3: Activity
As a strategic activity for CUG, activities in P&CE are wide-ranging, spanning research, teaching, and knowledge exchange delivered by staff, students and volunteers. Below are examples to evidence the breadth and deepening community partnerships and solutions to real-world challenges.
Hope for the Community CIC https://www.h4c.org.uk
Need:- Co-created bespoke positive psychology, cognitive behavioural therapy and mindfulness programmes to support self-management of long-term conditions
Community:- The H4C Hope Programmes support individuals manage long-term conditions using positive psychology techniques and is delivered through partners including NHS Trusts and Macmillan Cancer Nurses.
Action:- Launched in 2016, H4C is a social enterprise spin-out company created by Professor Andrew Turner and supported by CUSE. The team have worked with over 500 professional and volunteer facilitators delivering courses. In 2020, H4C was recognised in the top 25 of NatWest SE100 Trailblazing Newcomers for its work helping people living with long-term medical conditions.
COVID-19 Support:- CUG and H4C committed resource and over £75k to quickly develop, test and implement online H4C courses ensuring both new and current clients have access to well-being support during lockdown and beyond.
Meeting Needs: - In 2017-18 H4C delivered to 1,969 participants across 97 UK locations and spent 74% of its funds in the local community. Each year the CIC publishes an impact report detailing its achievements in supporting the local community. The latest reports are available here.
Coventry FabLab
Needs:- a city centre community location to help citizens access skills and support for employment
Community:- The local community in Coventry with focused projects on the migrant community in Coventry, Women's Groups in the city, and local school projects.
Action:- Coventry FabLab was set up in 2016 in collaboration with Coventry City Council. FabLab (http://www.covfablab.org.uk/projects/), is a city centre resource offering access to digital tools and technologies to nurture a local city ecosystem and build resilience within vulnerable communities.
Project Focus:- MiFriendly Cities https://mifriendlycities.co.uk
The Mifriendly cities programme helps three city councils build relationships between migrants and the communities that they have joined. Skills workshops are offered to migrant groups, ranging from practical courses such as furniture up-cycling through to employment access skills. The project takes internationally leading research on social relations and delivers at a grassroots level to the community.
COVID-19 Support – as part of the University Group's response to support the community, FabLab staff, volunteers, tools and materials manufactured PPE equipment for care providers across the city. In March 2020 the MiFriendly Cities programme trained and mobilised Health Champions to support Public Health messaging into migrant and refugee communities, combat misinformation and ensure that key health messages were received across the community. This activity supported helping people to report symptoms, receive assistance and to volunteer to provide assistance.
Project: - City of Culture 2021- Performance, Management and Evaluation Strategy
Needs: - As a principal partner of the City of Culture Trust, CUG actively supports the growth of the local creative industries and the celebration of the City of Coventry.
Community: - The City of Coventry and all visitors to the City.
Action: - CUG are working with University of Warwick, Coventry City Council and Coventry City of Culture Trust to monitor and evaluate the delivery of the City of Culture. The cultural, social, economic, health and wellbeing impacts of the Cultural programme will be measured, as a city and through its communities.
Meeting Needs: - The City of Culture 2021 supports the Coventry & Warwickshire LEP priority focus in Culture and Tourism; the year-long programme of delivery will ensure expanded tourism services creating jobs, promote cultural assets and boosting the local economy. Regular monitoring of the activities, and their development during 2020, will ensure these outcomes are achieved in 2021.
Self-assessment score
Delivering your strategy
5
Aspect 4: Results and learning
Much of the P&CE work conducted at CUG is done through co-creation methods to ensure that projects and solutions proposed reflect and meet community needs. Co-creation methodology is a key module in the CUG Coventry Essentials training for researchers and is updated regularly to ensure this skillset remains strong.
An example of strategy in action for results and learning is the RISING Global Peace Forum (video link here) held in Coventry each year.
Project: - Coventry's history is indelibly associated with terrible devastation during the second world war. The city has responded by becoming a centre of peace and reconciliation, inspiring thousands of people around the world in their efforts to resolve violent conflict and promote peace. Forming a unique partnership with Coventry Cathedral and the City Council, CUG established RISING Global Peace Forum in 2015 to bring together global peacebuilders, policymakers and academics to exchange ideas and innovative strategies for resolving violent conflict, and sustaining peaceful communities. Distinguished speakers and participants have included Archbishop Desmond Tutu, Gordon Brown, John Bruton, Julia Gillard and Marina Litvinenko.
Results leading to change: - Following the Peace Forum's launch in 2015, it rapidly became an international event. Building on international research expertise in CUG and excellent local feedback and results, RISING symposia have been held in Baltimore, Belfast, Bogota, Caen, Mexico City and Monterrey. The Forum has established a strong digital presence, with more than 20,000 unique visitors to the RISING website from 150 countries and the group's Twitter and Facebook pages now reaching almost 1 million people.
Learning:- The success of the initial Forum led to international symposia which exposed the need for a digital presence to engage communities in many, dispersed locations that would most benefit from the expertise and knowledge shared at RISING events. Learning from success and the needs of the audience has helped grow the RISING Peace Forum to be an international success.
Self-assessment score
Evidencing success
4
Aspect 5: Acting on results
Through our role as an anchor institution and civic university we have delivered a comprehensive range of programmes targeting local needs, supporting economic and societal growth. Through the prioritisation of social impact within our emerging 2030 strategy we will embed this knowledge and experience to enhance the work of CUG in Coventry and the towns, cities, and regions where we are based.
We have formalised our commitment to improving the economic, social and cultural wellbeing of Coventry and Warwickshire and the wider West Midlands through our civic engagement and establishment of an Anchor Institution Alliance, working in collaboration with our partner universities, local authorities, local NHS Trusts and other institutions, including the Local Enterprise Partnership. Similarly, in Scarborough, we have defined our commitment through the establishment of a stakeholder advisory group. With our partners we will transfer our knowledge and experience and continue to adopt a collaborative approach to public and community engagement (including sharing resources e.g. people and assets) to maximise the benefits of our activities for local people and society, enabling them to respond to the current pandemic and economic reset and building resilience.
Through our updated Corporate Social Responsibility Framework and Research and Public Engagement Strategy we will prioritise issues around place including; skills, educational outcomes, employment, health and wellbeing, culture and economic development. Best practice from projects (see Aspects 2 and 3) will be harnessed to support the expansion and development of services and facilities for the local community and we will continue to report publicly on our actions and outcomes within a University Group Social Impact Report.
Self-assessment score
Communicating and acting on the results
5