Institutional Context
Summary
The University of Brighton is renowned for engaging with the cultural, social and economic life of the communities in which we live, work and study. Our strategy positions us to create knowledge through academic, professional and creative practice, and put that knowledge to work. Our four core values of partnership, sustainability, creativity and inclusivity drive our knowledge exchange. We apply expertise from across our broad discipline portfolio – spanning science and engineering, social science, arts and humanities – to generate economic, social, environmental and cultural impacts. Community engagement, SME innovation and public sector skills programmes are distinctive strengths. Together with our partners, we are committed to regeneration to deliver mutual benefit for our region and beyond, improving people's lives and environment.
Institutional context
Origins to present day
Originating in 1859 and awarded university status in 1992, the University of Brighton has grown to become a diverse and inclusive institution with 20,500 students and 2,500 staff across four campuses in Brighton and Eastbourne. 
Disciplines across 13 Academic Schools range from pharmacy to engineering, psychology to illustration, business to education, with a joint Medical School created in 2003 with the University of Sussex. A £150m expansion of our Moulsecoomb campus is underway as part of a major city regeneration plan: in early 2020, the Plus X business incubator opened with the university partnering in delivering innovation support. A new academic building, home to our Business and Law School will be completed in 2021, marking another milestone for business engagement.  
Geography and economy  
Our main campus is in the Greater Brighton City Region and the University estate straddles two Local Enterprise Partnerships, South East and Coast to Capital (C2C). Whilst they were previously the second and seventh largest economies in England, the impact of COVID-19 on Gatwick has hit C2C particularly hard. The SME-driven economy lacks dominant sectors, but has strengths in high-value, knowledge-intensive sectors including engineering/manufacturing, creative/digital, financial services and health/life sciences. The University has longstanding strategic partnerships with business in these sectors including strong bi-lateral relationships with corporates such as Ricardo and Southern Water, Growth Hubs, and business networks such as Gatwick Diamond Business.
Knowledge exchange perspectives 
Our knowledge exchange has a partnership focus, with community engagement, SME innovation and professional skills programmes being strengths: 
Public and community engagement is in the fabric of the University of Brighton, demonstrated by our sector-defining model for knowledge co-production led by our award-winning Community University Partnership Programme (CUPP), described in our Public and Community Engagement narrative. 

Detailed in our Local growth and regeneration narrative and reflecting our commitment to environmental sustainability, we lead the Green Growth Platform, a pioneering, university-led network of c1600 green businesses. Our commitment to regeneration is shown in our £150m Big Build, improving access to facilities and expertise for regional partners within a major economic growth-led city plan.  

Our Research partnerships portfolio involves 225 non-academic partners in the last three years, reflecting the applied nature of our research. Examples include: developing groundbreaking engine technology to address climate challenges; and developing an mHealth platform for self-management of HIV, providing users with secure remote access to healthcare providers and data.  

Working with business successes include being a top 10 provider of Knowledge Transfer Partnerships (1988-2018) with our varied portfolio concentrated regionally.  

Working with public and third sector partners includes a national partnership to deliver the innovative £10.4m whole-system resilience initiative pilot, Resilience Revolution, implementing the expertise of our Centre of Resilience for Social Justice and social enterprise spin-out Boingboing. 

Skills, enterprise and entrepreneurship activities include delivering almost 81,000 days pa of continuing professional development, primarily to health, education and emergency services partners. BeePurple provides a stimulating culture for student entrepreneurship leading to around 16 innovative start-ups per annum.  
Our Research and Enterprise Strategic Plan is being revised in 2021, to ensure the ongoing impact of our knowledge exchange. 
Local Growth and Regeneration
Summary of approach
The University of Brighton

strategy positions us to create knowledge through academic, professional and creative practice, and put that knowledge back to work. Whilst our research and enterprise portfolio has international reach, our knowledge exchange activity is regionally focused: we nurture relationships with regional policy makers and business networks to support innovation ecosystem development, creating programmes and networks to drive innovation and skills-led growth. Network development addresses regional demand, with clean growth, creative/digital and healthtech clusters complemented by sector-spanning programmes. Regional partners' access to facilities and expertise will be enhanced by our £150m Moulsecoomb campus investment: working with private and public sector partners our campus development forms a key part of the largest regeneration project in Brighton and Hove in the last 50 years.
Aspect 1: Strategy
1.1 Strategy
The University strategy builds on our pioneering roots as an applied learning institution, with partnership as one of four core values. Our knowledge is applied on a national and international scale in several key areas, but the focus for our innovation and skills activities is regional. Figure 1 outlines our local growth and regeneration (LG&R) strategy as described in the three Strategic Objectives (SO) of Goal 6 in our Research and Knowledge Exchange Strategic Plan: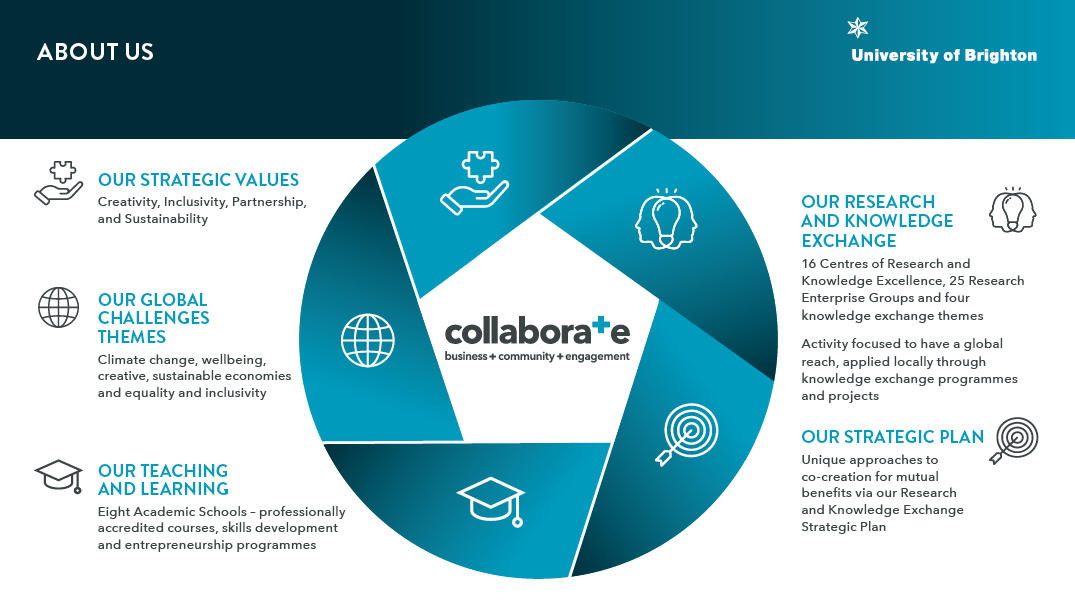 In line with SO1 & SO2, the University priority in ecosystem development is to establish sector/cluster-specific and sector-spanning innovation networks and programmes that open up University research and knowledge exchange (KE) expertise. We offer collaborative research and development (R&D), Knowledge Transfer Partnerships (KTP) and complementary regional programmes to deliver innovation-led growth, complemented by employer-focused skills programmes addressing public and private sector workplace skills and knowledge gaps.
1.2 Regional context
Our KE focus area is an SME-dominated mixed economic region with no single large metropolitan area. Key areas of economic activity are the Sussex coastal conurbation with the city of Brighton and Hove in the centre from which the M23 corridor connects us to the economically important area of Crawley/Gatwick, on to Croydon, London and beyond. Figure 2 shows regional economic bodies within our core geography and summarises the University of Brighton's roles within them.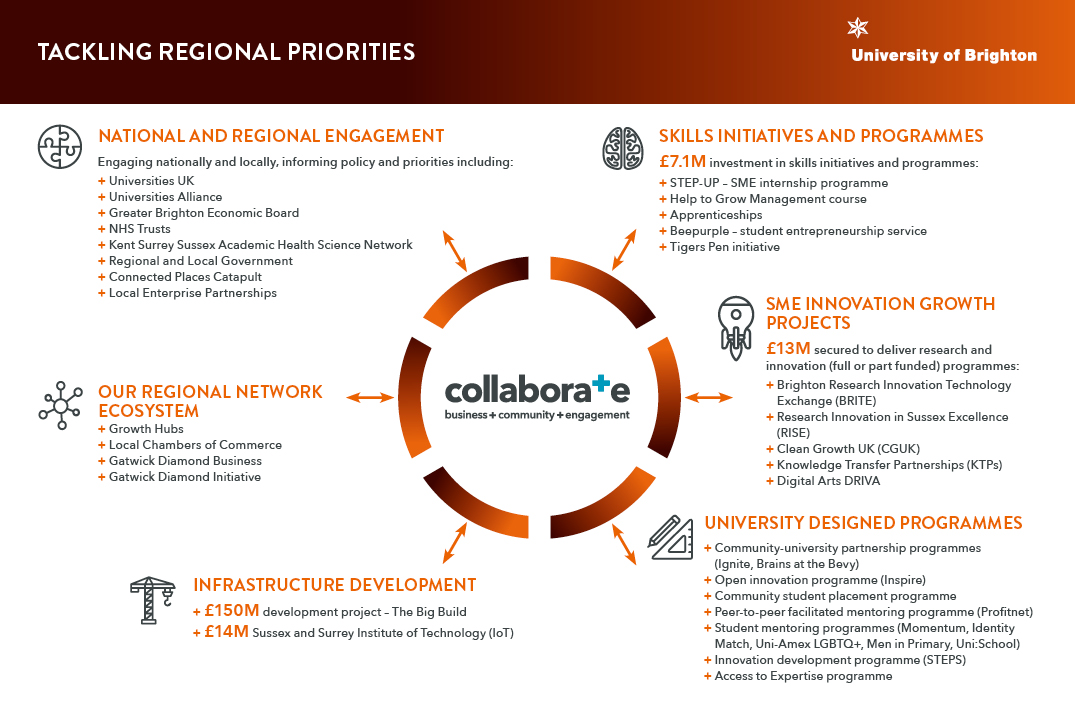 1.3 Understanding the needs of the area
Through Board and Officer-level involvement, the University was an active participant in the evidence gathering and evaluation phases of Local Industrial Strategies for both C2C and SELEP in 2018/19. These exercises confirmed the growth needs of this complex economy which has a diverse and talented population but where regional productivity has stagnated at 1999 levels and investment in R&D is low. The region lacks distinct sectors but has notable strengths in advanced engineering/manufacturing, creative/digital, financial services and health/life sciences.
Publication of both LEPs' Local Industrial Strategies is delayed by COVID-19, but innovation and skills-led growth are central to the region's pandemic recovery. Gatwick Airport and its supply chains have a significant influence on the C2C economy, and a reduction in business has resulted in 80% of jobs in Crawley being classed as impacted or vulnerable (highest in the UK), economic output predicted to drop 12-17% in 2020 and half of the region's coastal towns being in the highest risk group. The region's universities will play a central role in delivery of C2C's Build Back Stronger, Smarter and Greener mantra.
1.4 Regeneration
Our expertise and thought leadership (SO3) have been applied to significant regeneration activities: working with private and public sector partners we are delivering the largest regeneration project in Brighton and Hove in the last 50 years. At the heart of the socially disadvantaged area of East Brighton, adjacent to our Moulsecoomb campus, the five-acre Preston Barracks brownfield site had been empty for 30 years. With previous retail-based development plans having failed, Brighton & Hove City Council concluded a mixed development was needed to meet the economic and social needs of the locality. Working in partnership with the Council and developer U+I we co-delivered a master plan and consultation process that is delivering a £300m+ mixed-use regeneration due for completion by late 2021. The Big Build reflects our highly ranked progress towards zero carbon and the opening of the Plus X Innovation Hub, from where the £5.5m BRITE scale-up innovation project is being delivered, adds an essential incubator to facilitate our innovation-led growth approach.
Aspect 2: Activity
2.1 Leadership 
University of Brighton Local Growth and Regeneration activity is led by the Associate Director, Enterprise, reporting to the Executive Board via the Pro-Vice Chancellor, Research & Enterprise. In 2019, to reflect an enhanced focus on regional collaboration, a Head of Economic Development post was created within an overall Knowledge Exchange team of ten. The post supports University leadership to influence policy and deliver against the University's strategy of establishing programmes and networks to share expertise for the benefit of regional SMEs. Activity includes both sector-spanning and sector/cluster specific approaches.
2.2 Regeneration 
Construction of the Preston Barracks masterplan, designed to meet pressing local needs for affordable housing, student accommodation, business incubator space and new public spaces, is nearing completion - the first building opened in spring 2020. Activity continues with staff and student expertise informing the design and animation of new public spaces. 
2.3 Sector-spanning knowledge exchange networks and programmes 
Knowledge Transfer Partnerships (KTPs) have been offered by the University of Brighton since the scheme's inception. Our portfolio of c250 completed partnerships is regionally concentrated: the University is ranked 10th by value for KTP delivery and 7th for within-region partnerships and has a 100% funding success rate. The University recently increased resource to stimulate new KTPs, integrating the KTP team with the Green Growth Platform (see below); and promoting management KTPs, resulting in the early award of a grant with Judge Sampson.  
Brighton Research Innovation Technology Exchange (BRITE) is a £5.5m European Regional Development Fund (ERDF) collaboration between Plus X and the University and delivered from the Big Build regeneration programme's first completed building. Having commenced early in 2020, SMEs are currently being recruited to follow one of two innovation scale-up pathways: 
Open innovation: utilising tools and approaches developed by the University's Centre for Change, Entrepreneurship and Innovation Management (CENTRIM), including INSPIRE and Profitnet.  

Bespoke high intensity support: focusing on specific research and innovation needs.   
2.4 Sector-specific networks and programmes
Sector/cluster specific networks reflect regional demand and university strengths. For example, the University has distinctive expertise in clean growth that emerged from academic excellence in advanced engineering, built environment and environmental science, but has grown to draw on multi-disciplinary expertise across science, engineering, social science and the arts. To address strong regional business demand, we established the Green Growth Platform (GGP) in 2014 to share this knowledge with SMEs, subsequently growing the network to become the South East Hub of Clean Growth UK. In health, we developed and led a consortium comprising of health-related public, private and government stakeholder groups as part of the national Leading Places initiative. This resulted in a Digital Living Lab in a 50-household retirement home in Brighton, providing an arena for testing and developing innovative prototypes to reduce social isolation.  Figure 3 provides details of expertise in three distinctive areas.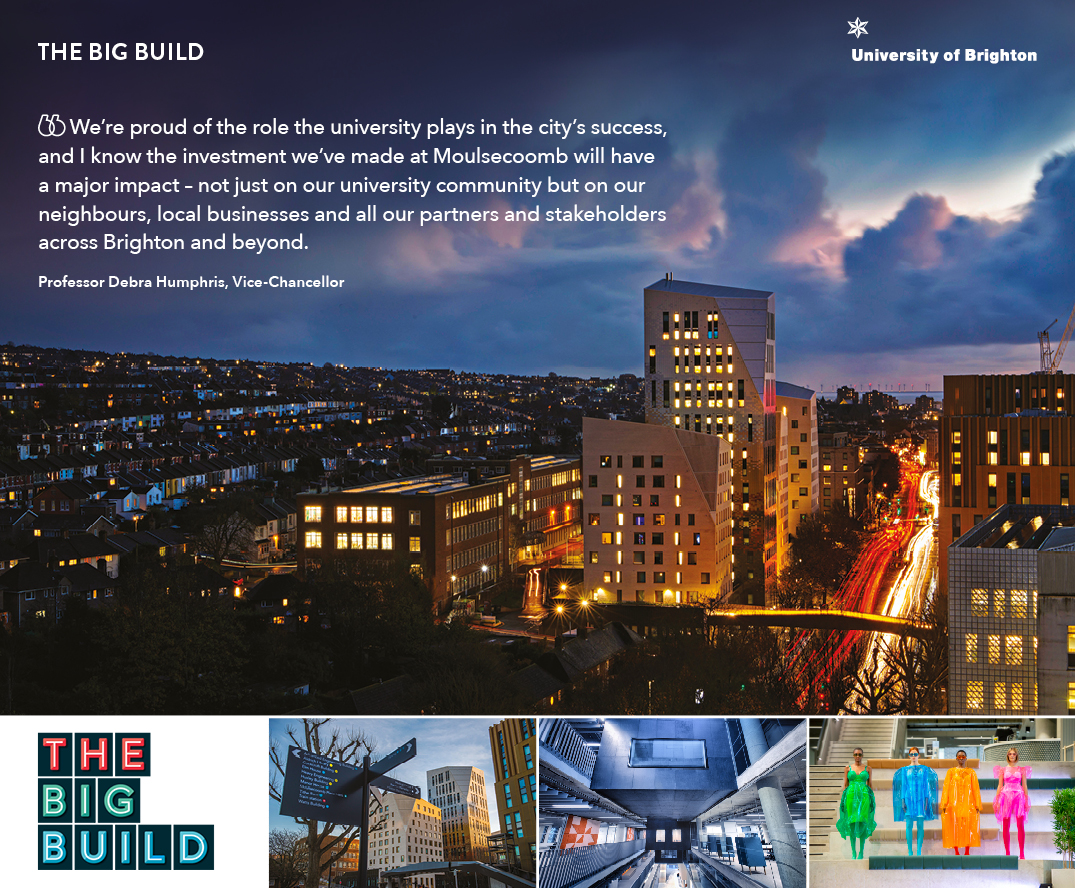 2.5 Skills programmes
Step-Up is a £1.2m European Social Fund programme that gives regional SMEs early access to talented graduates who may otherwise leave the region. SMEs participate in peer networking sessions that identify barriers to graduate recruitment, informing graduate skills programmes. Participating SMEs then benefit from month-long paid internships undertaken by trained graduates.
Fourteen degree-level apprenticeships are offered by the University in four areas of local demand: business; construction; education and health. Pathways target businesses and public sector employers and are informed by LEP Skills Advisory Groups. We work with professional practice networks and industrial boards to ensure programmes meet regional employers' needs, providing support that extends beyond the apprenticeship.
Figure 4 shows our extensive relationships and activities with regional health bodies: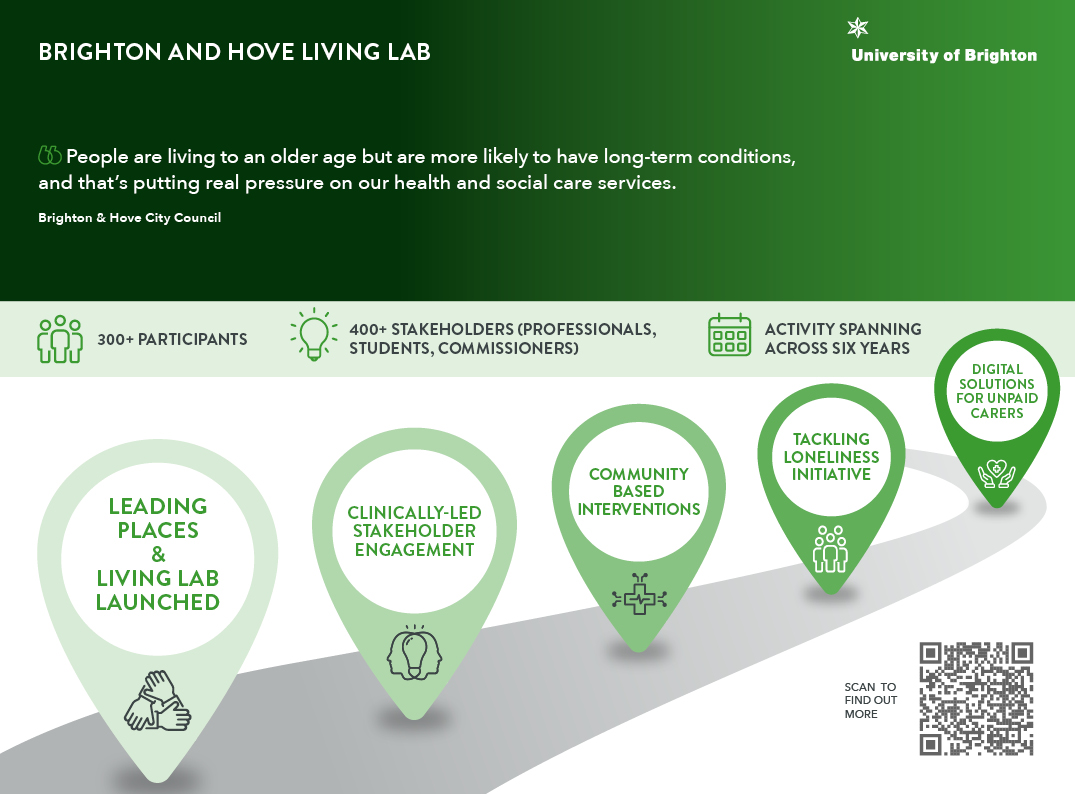 2.6 COVID-19
Being regionally-embedded enabled us to react quickly to support the region during the pandemic. The University's response is detailed in our Public and Community Engagement narrative with Figure 5 showing the KE collaborations we seed-funded: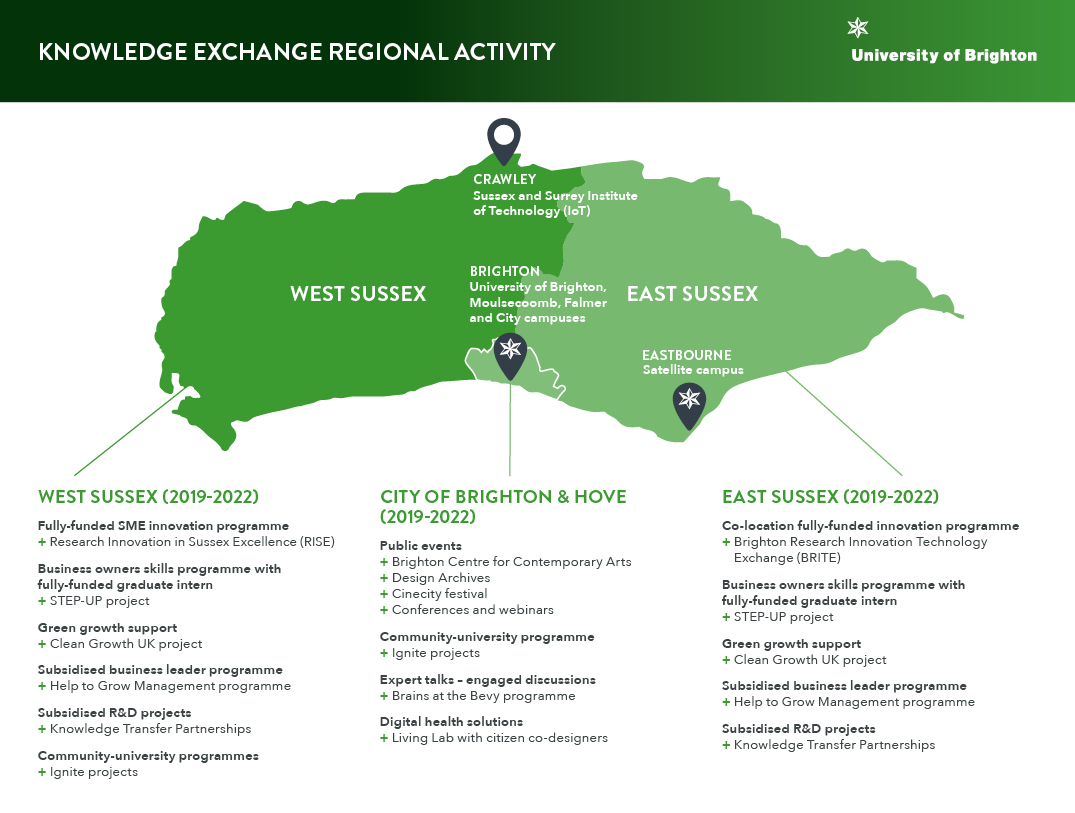 2.7 Meeting regional needs
We co-construct programmes with key stakeholders to ensure regional relevance, with industry boards and partnership/programme steering groups providing currency, expertise and practitioner knowledge that supports academic expertise, for example, the Green Growth Platform Board. The scope and effectiveness of the overall knowledge exchange offer is reviewed quarterly with LEPs, an activity that will be enhanced when Local Industrial Strategies with explicit innovation goals are implemented. External summative assessments will play a key role in assessing regional relevance on completion of the major programmes we have initiated in the past three years.
Aspect 3: Results
The University has collaborated with over 3,000 businesses in the last three years (including student placements). Activities presented in Aspect 2 reflecting our strategy of creating regional programmes to stimulate KE are typically new; the results presented here derive from established activities:
3.1 Regeneration
Working in a Public-Private Partnership, the University is central to the Preston Barracks masterplan that is having a transformative effect on the city. It is creating over 1,500 jobs, 569 new homes, 1,300 student bedrooms, a new academic building, new public spaces and is projected to inject more than £280 million into the local economy over the next decades. Opened in spring 2020, the first building is home to the BRITE project, creating an impressive £10.5m co-working innovation hub driving collaboration and economic growth in Brighton in partnership with the University. The building has been equipped to complement University facilities, contributing towards an innovation corridor planned to lead into the heart of Brighton.
3.2 Knowledge Transfer Partnerships
Figure 6 summarises KTP results in the KEF period with completed programmes including:
Source BMX developed the first formalised coaching framework for BMX freestyle, growing the business that regenerated a disused swimming pool in a deprived area, providing a leisure resource for local youths, stimulating the visitor economy and creating jobs.  
ATC Ltd innovated in-house computer-aided design and manufacture of medical devices, enhancing productivity by linking simulations, automatic machining code generation and inspection to CAD models to significantly reduce machine setting times.   
Family Law Partners applied AI in legal practice, accessing knowledge engineering expertise to create two innovative software tools which enabled FLP to transform family law provision, and to licence the technology to other firms.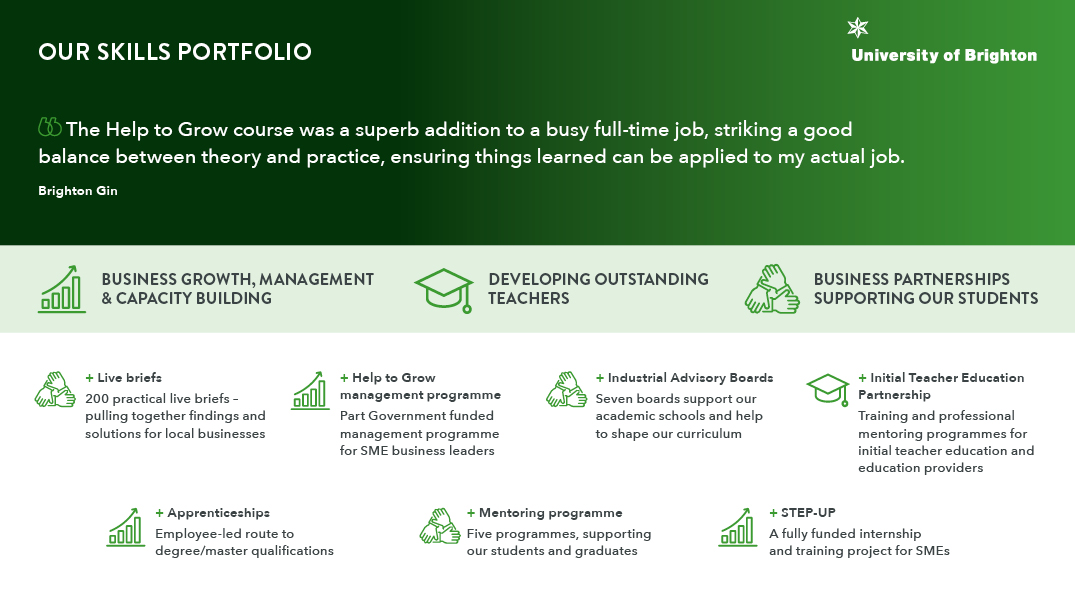 Figures 7 & 8 presents testimonials from KTP partners.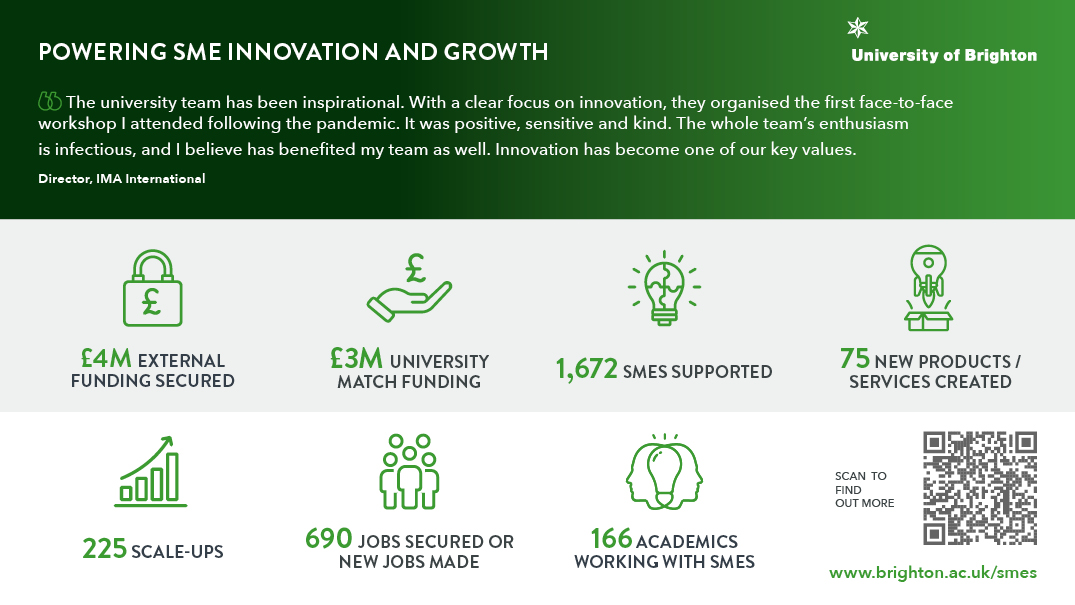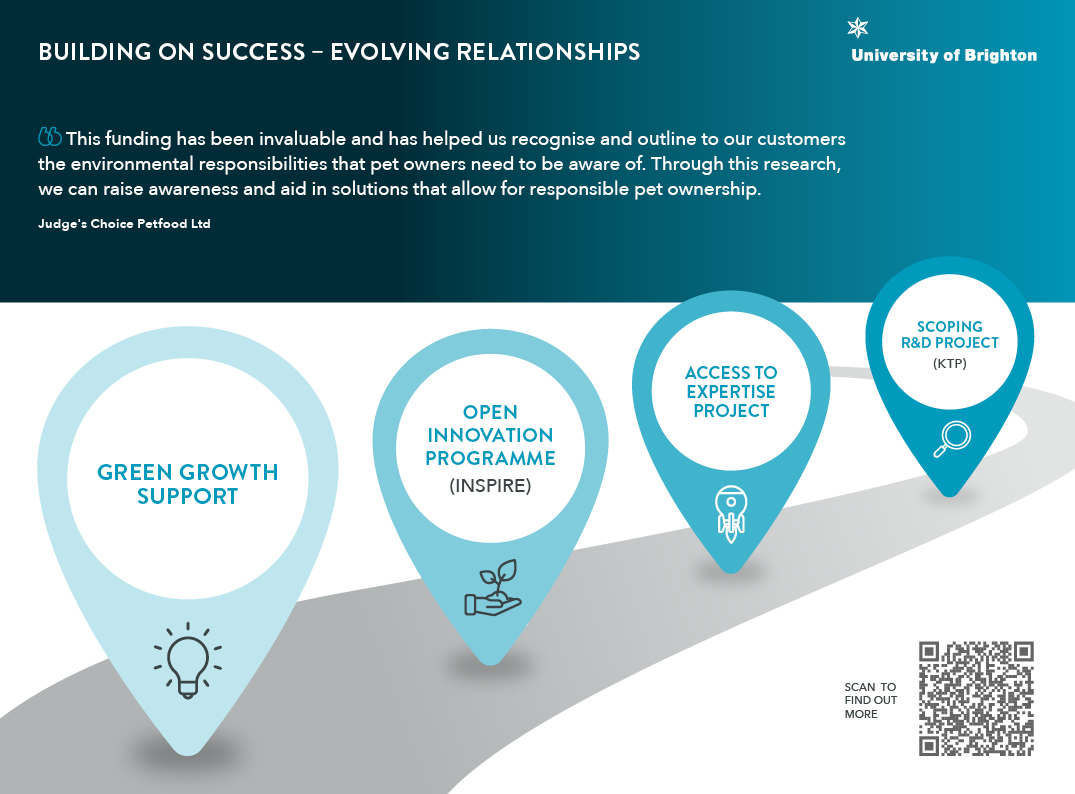 Case studies for Medisort and for OSET bikes provide further information on outcomes and impacts.
3.3 Strategic relationship – University of Brighton and Ricardo
A recent headline outcome of the University's Advanced Engineering Centre's 30-year strategic relationship with engineering consultancy Ricardo is the demonstration of a co-developed liquid air split-cycle engine that reduces fuel consumption by up to 30% at near zero NOx and particulate emissions. Case New Holland (CNH) purchased this intellectual property in 2019 and are building a strong partnership with the University to take the technology to market, targeting HGV applications.
3.4 Sector specific programme – Green Growth Platform
Figure 9 shows headline achievements of our most established network, the award-winning Green Growth Platform, in the last three years: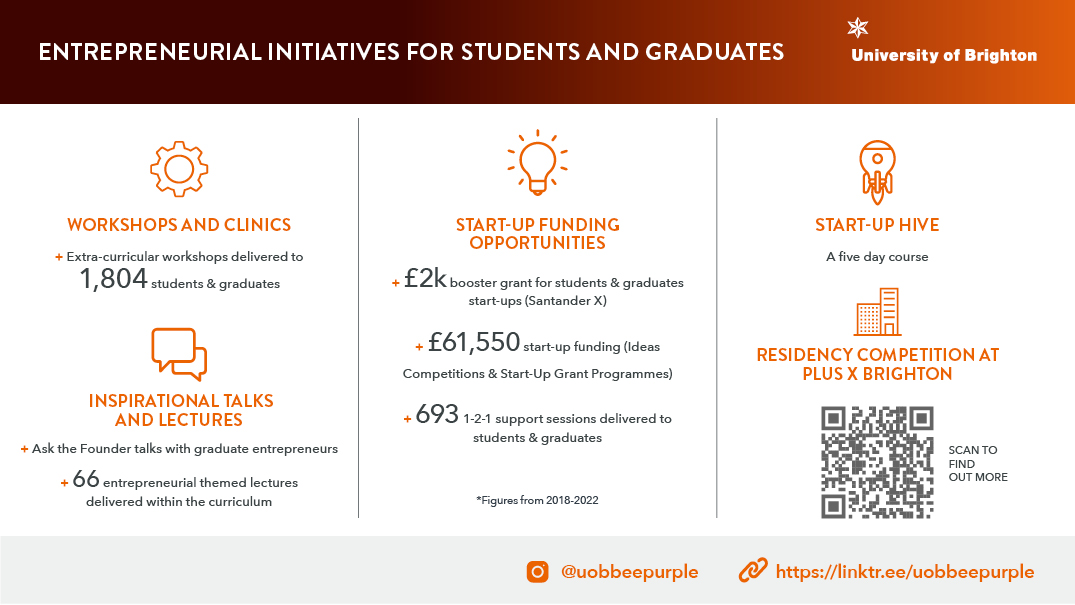 Figures 10 and 11 presents testimonials from Green Growth Platform members: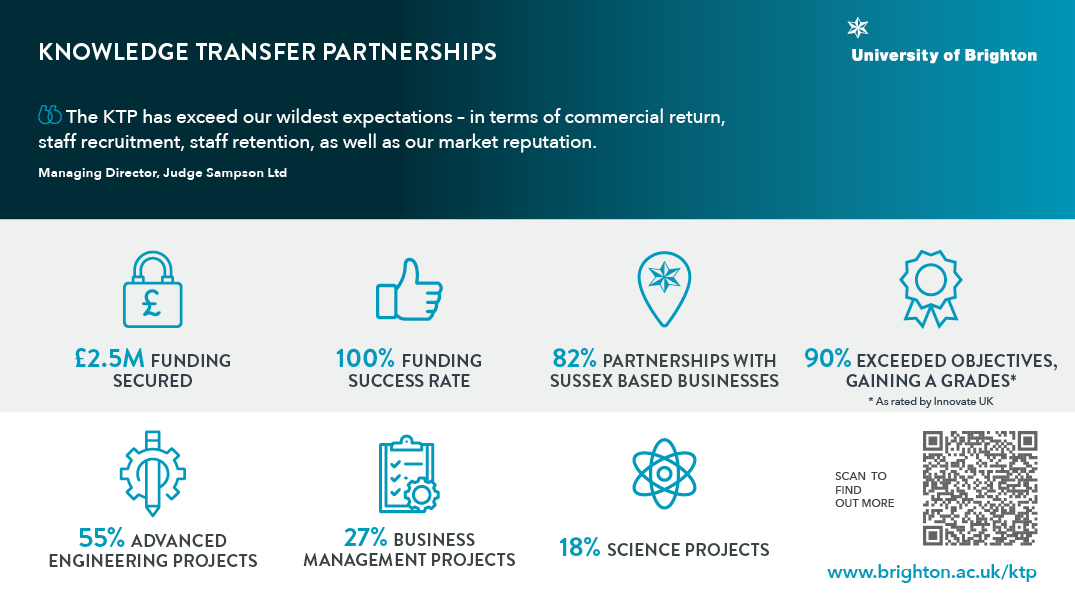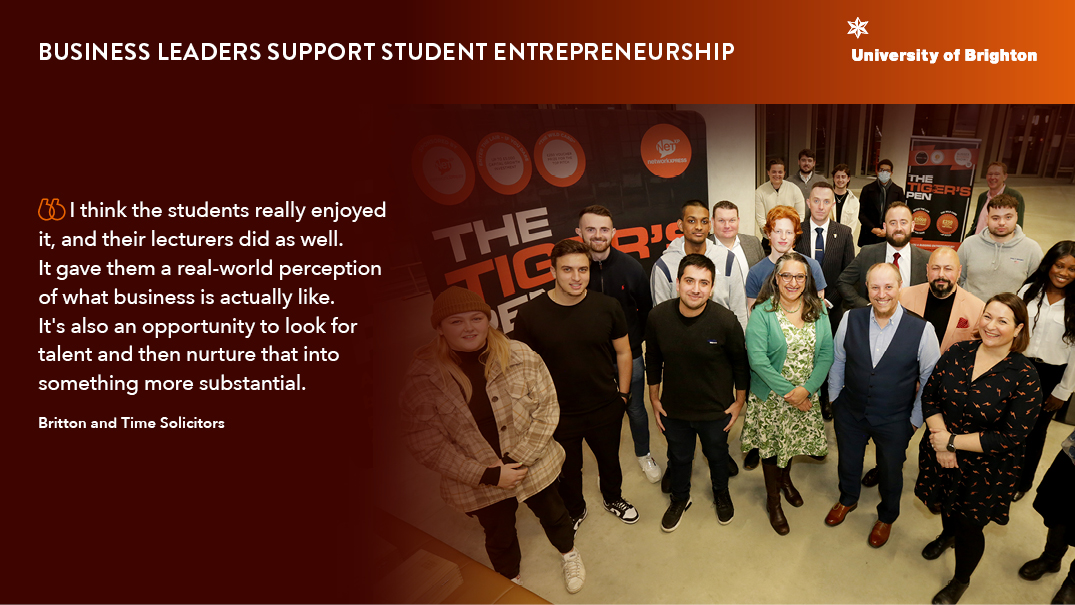 Further examples can be found here.
3.5 Regional sector specific programme – DRIVA Arts DRIVA
The DRIVA platform has over 1100 users including representatives of 326 SMEs and 190 corporates. To date there have been 623 participants in 39 events/webinars. Two grants have been awarded, including for 'Susceptible' (Figure 12), with a second round of Super-fused awards running in autumn 2020.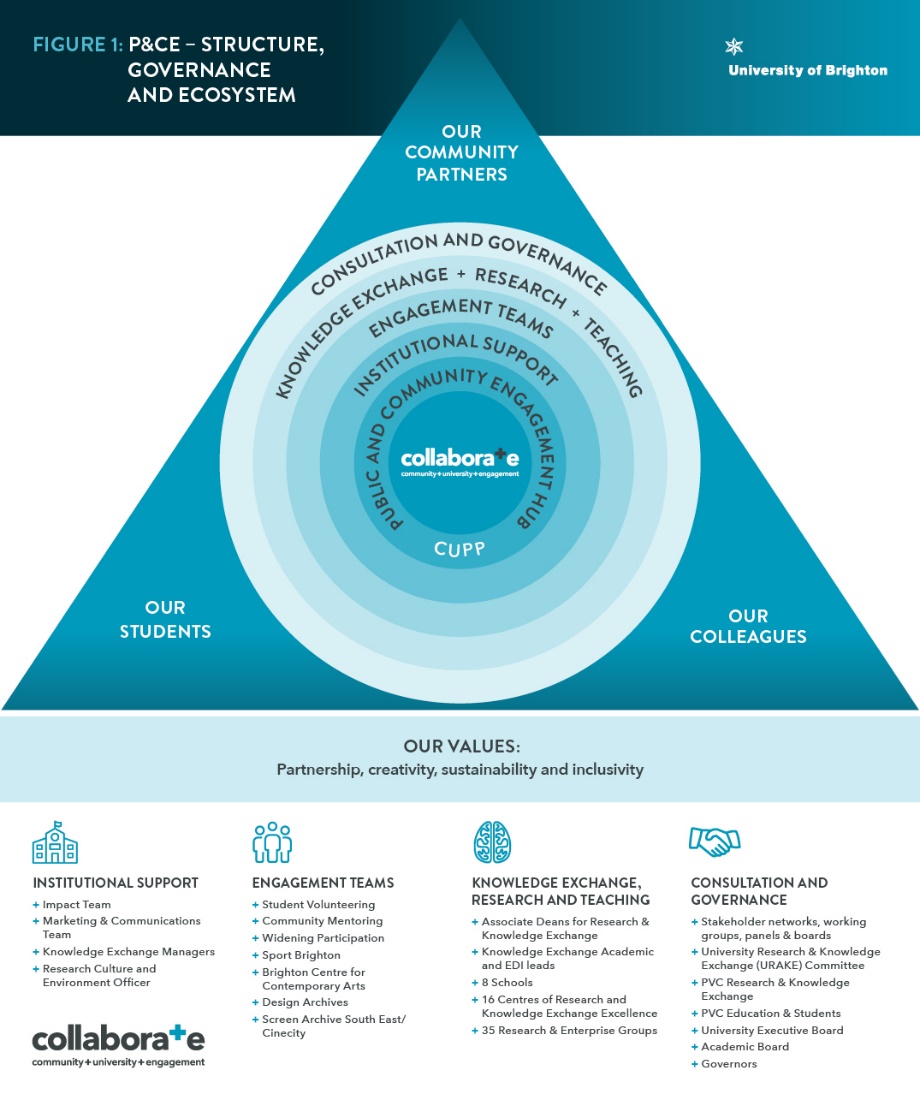 3.6 Skills programmes
Skills programme participation includes the following partnership examples: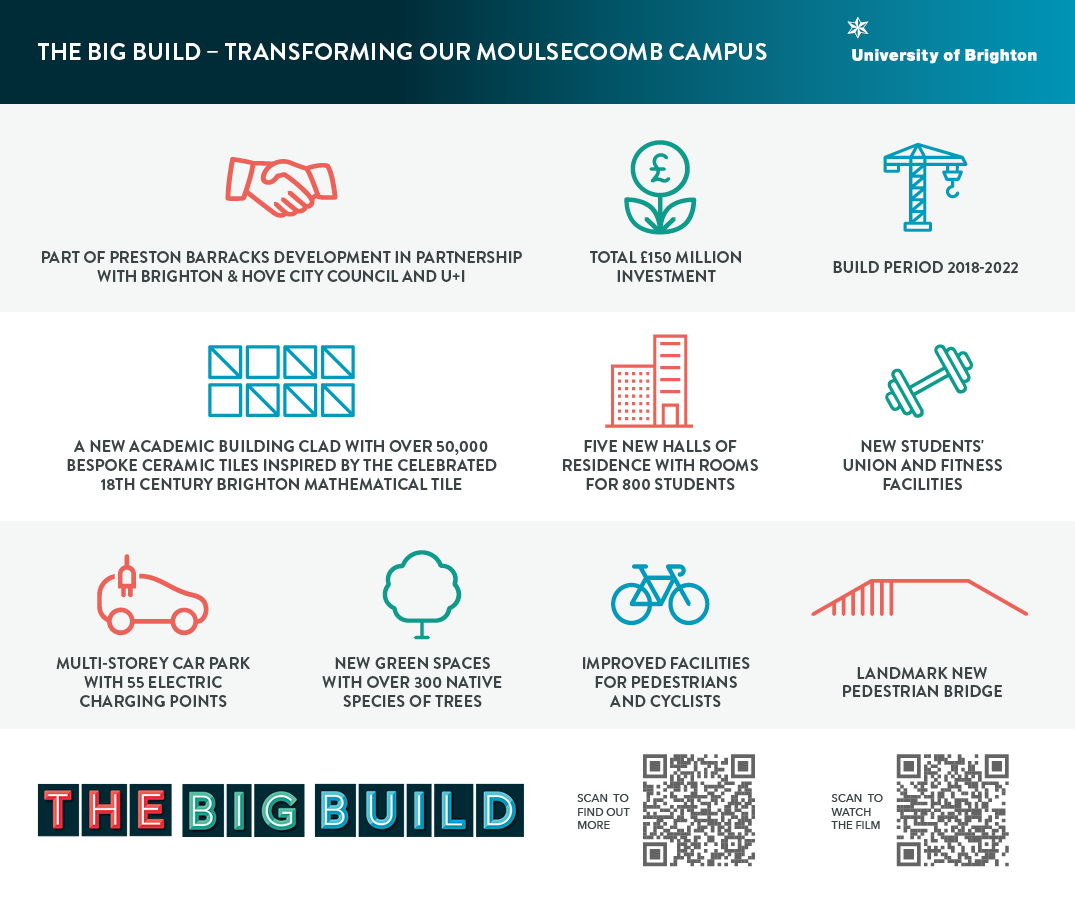 3.7 COVID-19 response
Results emerging from projects supported through our £50k COVID-19 Research and Enterprise Urgency Fund include a partnership between Western Sussex Hospitals Trust and exercise rehabilitation academics that has completed full health and functional capacity datasets on sixty discharged patients. All patients wear trackers so activity levels can be compared to long-term recovery and inform remote physiotherapy and motivational activities.

COVID-19 business webinars were well received, with a local MD saying:
"Each of the sessions was valuable, insightful and gave me something to take away and work on for the business. Many of us are using this time to re-invent what we do. The advice and guidance has helped me develop a higher-level view of the business."
3.8 Communicating and acting on results
Programme-level results are tracked via a range of key performance indicators often associated with funder requirements, and partner communication is frequent throughout individual projects. Case studies communicate results to stakeholders, linked to from business newsletters, social media and via business networks. Internal reviews reflect on project achievements and feed into best practice development.
Public & Community Engagement
Summary of approach
The University of Brighton has an international reputation for our longstanding and innovative approach to P&CE; our social learning work is sector-leading. Our distinct activities, aligned with our values, focus on co-producing community-university engagement, tackling social disadvantage and inequalities linked to social identity. In line with our P&CE strategy, and £4.6m budget (2017-20), our five engagement teams (28 staff) have created measurable impacts that benefit many of our 1,418 organisational partners, 2,390 involved students and 73,800 participating young people. Much of our work is focused on improving lives in disadvantaged communities - locally and internationally. We regularly review our approach and a new 2021/22 strategy will ensure we continue working with partners to co-produce pioneering P&CE and best practice.
Aspect 1: Strategy
1.1 Strategy development
In 2003, we established the award-winning Community University Partnership Programme (CUPP) to lead P&CE strategy. CUPP developed a distinct approach to co-produced P&CE published in books, reports and peer reviewed journals. Our inclusive approach ensures we involve partners in all aspects of P&CE strategy, including identifying needs and devising programmes (see 2.3, 2.4, 5.1, 5.2).
In 2013, CUPP led the development of our current ten-year institutional strategy for P&CE focused on community-university engagement. The strategy is pioneering within the university sector by being co-authored with community partners and involving over 100 community and university members to identify the needs we address. The strategic vision is based on three guiding principles:
facilitate access for communities to share the University's expertise, resources and facilities

develop capacity for mutually beneficial working between the University and communities, that prioritises addressing social disadvantage

promote community-university engagement as a valuable process by bringing together different knowledges and perspectives.
The 2013 strategy set out five strategic objectives to achieve our vision summarised as:
SO1: Develop spaces for engagement that act as permeable boundaries

SO2: Value students as a resource for universities and communities

SO3: Negotiate unevenness in power and resources so community members can have a more influential role

SO4: Protect the time of university staff, students and partners and recognise their involvement

SO5: Maintain strong local community-university partnerships whilst also engaging internationally
1.2 Growth and diversification
To deliver the 2013 strategy, institutional P&CE resources were expanded significantly. In addition to CUPP, a further four professional services P&CE teams were established:
New governance structures ensure all teams report to members of the University Executive Board. Figure 1 summarises our P&CE organisation and its integration with University-wide teaching and research missions, ensuring involvement from all Schools.
In 2015, our community-university engagement focus for P&CE was considered in a University-wide strategy review. As a result, our P&CE approach is now integrated in our institutional strategy, Practical Wisdom, with partnerships one of our four values. Our distinct identity-based P&CE programmes (2.4, 5.2) align with inclusivity, another strategic value, and our institutional commitment to equality, diversity and inclusion recognised by kitemarks. In 2019, the University reviewed the progress of Practical Wisdom, approved its continuation to 2025 and identified strategic priorities for 2020-25 including developing a new P&CE strategy (Aspect 5).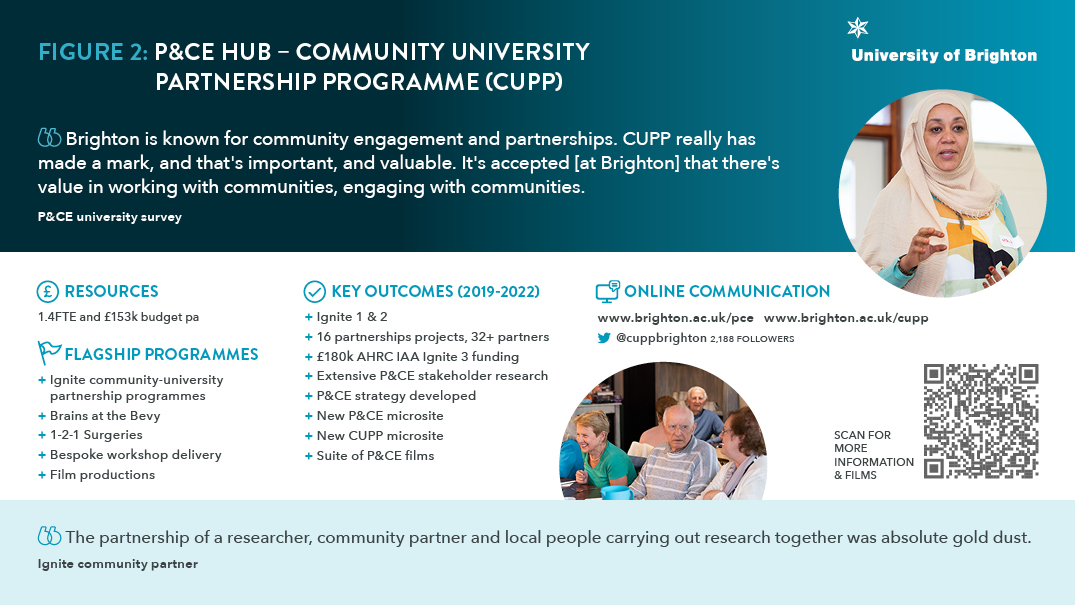 Self-assessment score
Developing your strategy
4
Aspect 2: Support
2.1 Teams and leadership  
Our five teams, 28 staff and their budgets deliver our practical support for P&CE (Figures 2a-c and examples below). Each team appointed high-calibre executive teams, bringing industry, public and third sector expertise to the University. A continuing professional development (CPD) investment budget of £56k (2017-20) ensures ongoing team skills development (see 3.5 for recognition of partner work).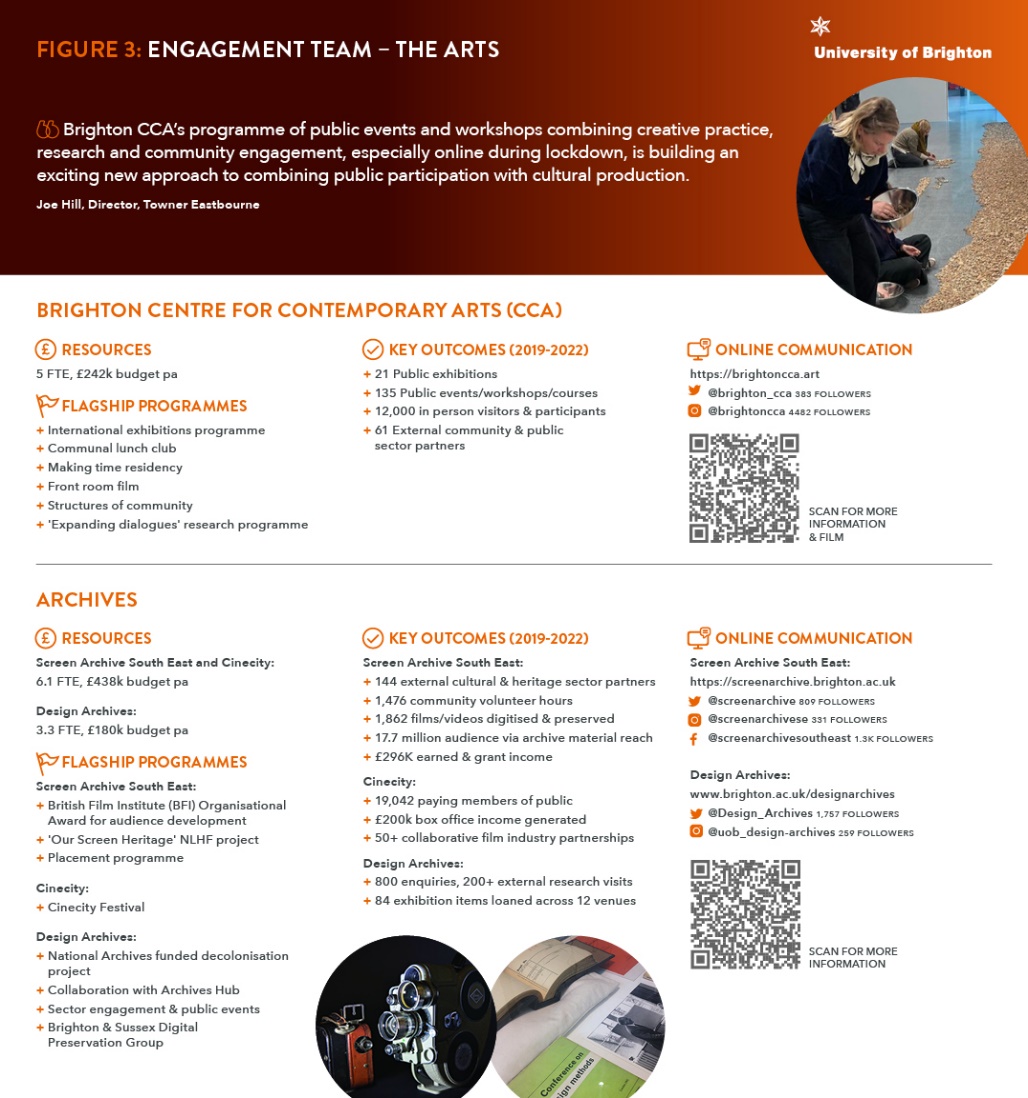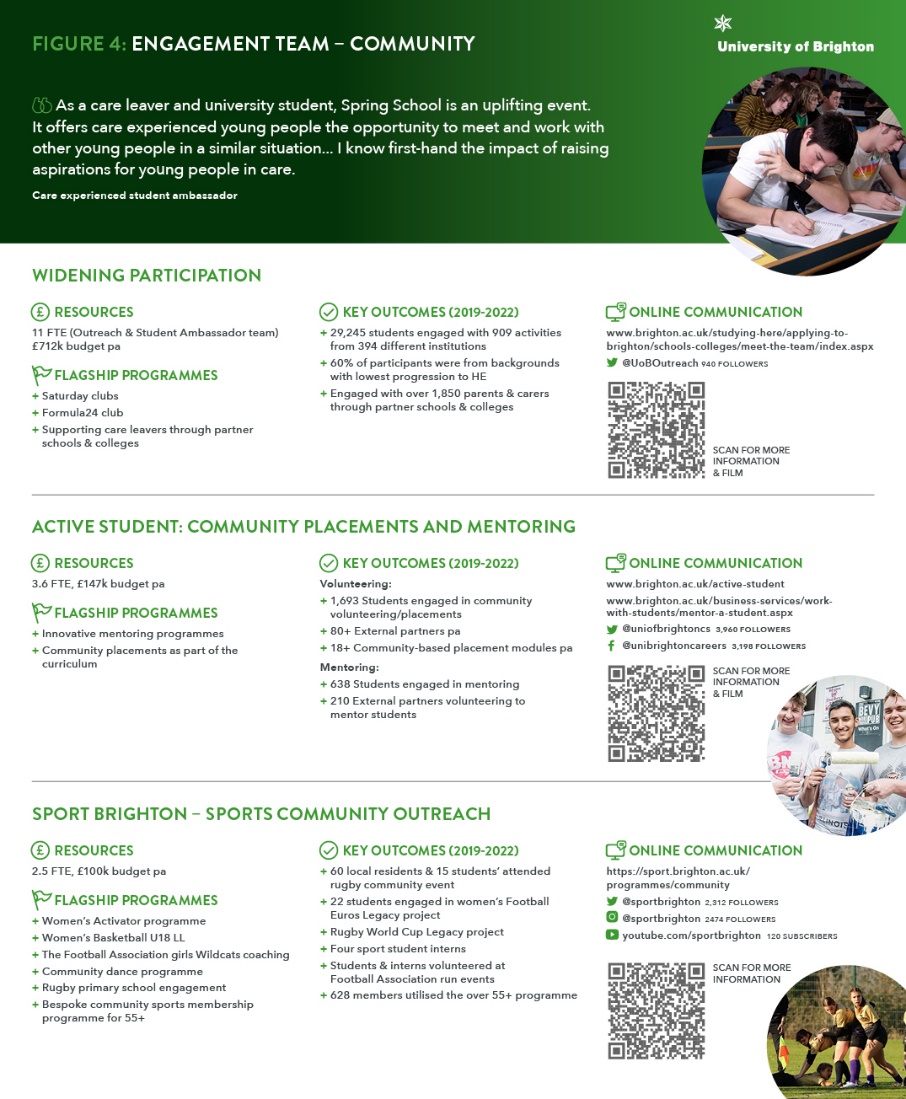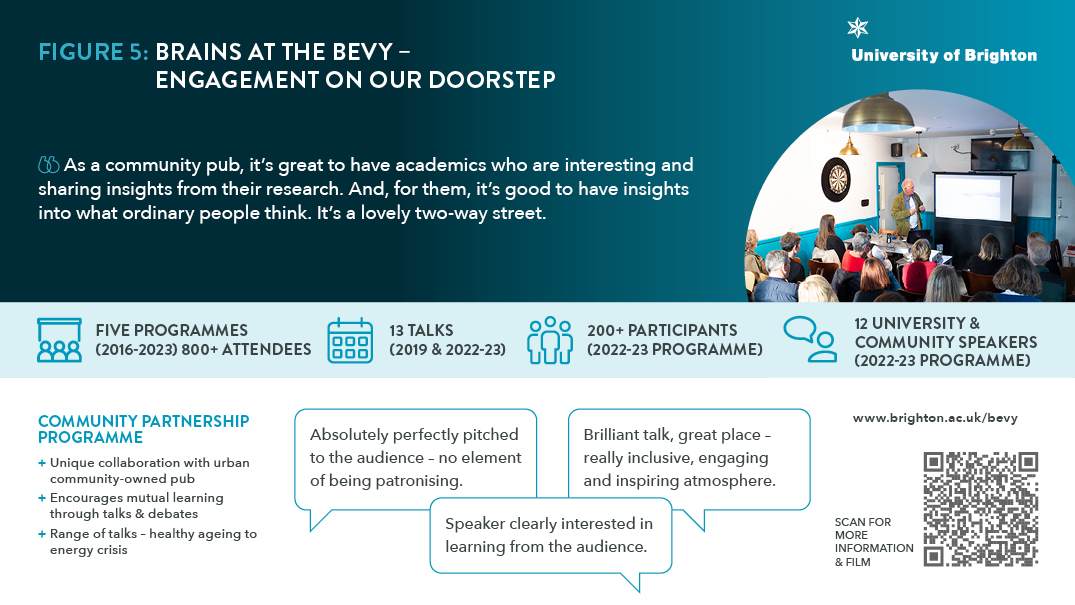 2.2 Resources 
The combined 2017-20 budgets of our teams provided £4.6m of support for P&CE (Figures 2a-c), excluding UoBAT's DfE funding. Budgets include internal and external funding sources and are integrated with University financial planning. Expenditure is focused on programmes/initiatives (Figures 2a-c) enabling long-term engagement addressing partner identified needs and networks to share learning. University and external funding for the CCA represents a unique investment in the KEF period, creating nationally distinct new events and gallery spaces with programmes engaging the public with the intersections of creative practice, community engagement and research. The CCA occupies space alongside our established, award-winning and nationally accredited Design Archives. The University provided £240k start-up funds for UoBAT - one of the first multi-academy trusts sponsored by a university – now a charitable company limited by guarantee comprising 15 schools. UoBAT is closely linked to our teaching mission; we provide space and in-kind support worth £40k pa for the 3.4FTE executive team and our Head of School of Education is the Chief Executive. 
2.3 Governance and identifying needs 
Since 2004, CUPP's support for P&CE has included community partners on governance/programme boards. The UoBAT Board of Trustees comprises 11 highly experienced individuals from education, industry and the local community (including three current/ex UoB staff appointed by the University). The Board, along with the Trust's academies, identify needs in their communities. OT school and college forums guide our programme development alongside close relationships with partner institutions. The CCA Board has external partners including the Director of Brighton Festival and an industry member who advises University of Brighton governors on P&CE. These boards/forums/relationships are central to identifying the needs that our P&CE addresses. 
2.4 Meeting community needs 
A distinctive aspect of our P&CE involves programmes that address identity-based inequality and tackle social and educational disadvantage. UoBAT supports schools in challenged communities in Crawley and Hastings. The CUPP Ignite programme co-produced projects in disadvantaged communities using UKRI funding (plus Brains@theBevy). The SMV identity mentoring programmes benefit BAME and LGBT students and mentors. The OT work with communities with the lowest percentage progression to university. 
Self-assessment score
Support structures and recognition
5
Aspect 3: Activity
3.1 Our focus
To deliver our PC&E strategy, teams focus on specific strategic objectives (1.1, SO1-5) and communities (Figures 2a-c). Our co-produced approaches (1.1), governance boards (1.2, 2.3), and learning to improve practice (5.1, 5.2) ensure our reporting incorporates external partner input on how we are meeting needs. Key activities below and Figures 2a-c indicate how we achieved our objectives during 2017-20, Figure 3, below highlights our recent COVID-19 activities.

3.2 SO1: Develop spaces
The University's £343k investment in the CCA refurbished our galleries and theatre which, alongside our existing Design Archives and Screen Archive South East created a new public space in central Brighton reaching regional and international audiences. This builds on our longstanding partnership with the annual Brighton Festival and Fringe Festival when we offer our facilities to local and international participants. Co-produced projects involving these spaces allow our partners to reach new audiences. For three years the Trans, Non-Binary and Intersex Conference, the only such event in the UK, was held in the theatre. The Design Archives loaned 270 items to 13 UK exhibitions and 33 international venues. In 2017, we co-hosted the 2017 British Science Festival attracting 18,490 attendees.
3.3 SO2: Value students
During 2017-20, 2,390 UoB students worked with our engagement teams and 1,800 students received recognition for volunteering through accredited modules (Figures 2a-c). Feedback from 455 mentors and 260 volunteering partner organisations highlights many benefits of the SMV programme including improved understanding of students' societal contribution. UoBAT involves 50 students pa in teacher education placements, paid internships and mentoring pupils.
3.4 SO3: Negotiate unevenness in power and resources
Since CUPP started, partners have identified the need to address resource inequalities arising from a lack of funding to co-produce project proposals. CUPP, therefore, has regularly run seed funding programmes (e.g. Ignite) to provide partner resources to co-produce projects. Our OT addresses power inequalities and promotes social mobility through engaging 55,000 young people in programmes targeted at low HE participation areas, care leavers, estranged students and disabled people.
3.5 SO4: Protect time and recognise involvement
We aim to ensure all partners are recognised for their time. Where appropriate, governance/advisory board members are remunerated, and we budget for community partner time in research funding bids. Over 200 students engaged with CCA and benefitted from paid work participating in international exhibitions. Our UoB workload model allocates academic staff 20% of time for research and scholarship allowing staff protected time for community engagement. Engagement is recognised in staff promotion criteria, student union awards and our University research impact awards.
3.6 SO5: Maintain strong community-university partnerships
During 2017-20, our teams worked with 1,418 external partners (Figures 2a-c) and further strengthened major strategic partnerships. Regionally, UoBAT has expanded to 15 Sussex-based academies involving 700 staff and 7,700 pupils. CUPP worked with our Centre of Resilience for Social Justice and social enterprise 'spin-out' Boingboing in a national partnership delivering resilience practice for 11,000 disadvantaged young people through the £10.4m pilot of our Resilience Revolution that includes our 'satellite' research centre in Blackpool. Internationally, CUPP supported our strategic partnership Football4Peace, improving lives by promoting peace-building involving 307 coaches and 2,680 children in four conflict-affected countries.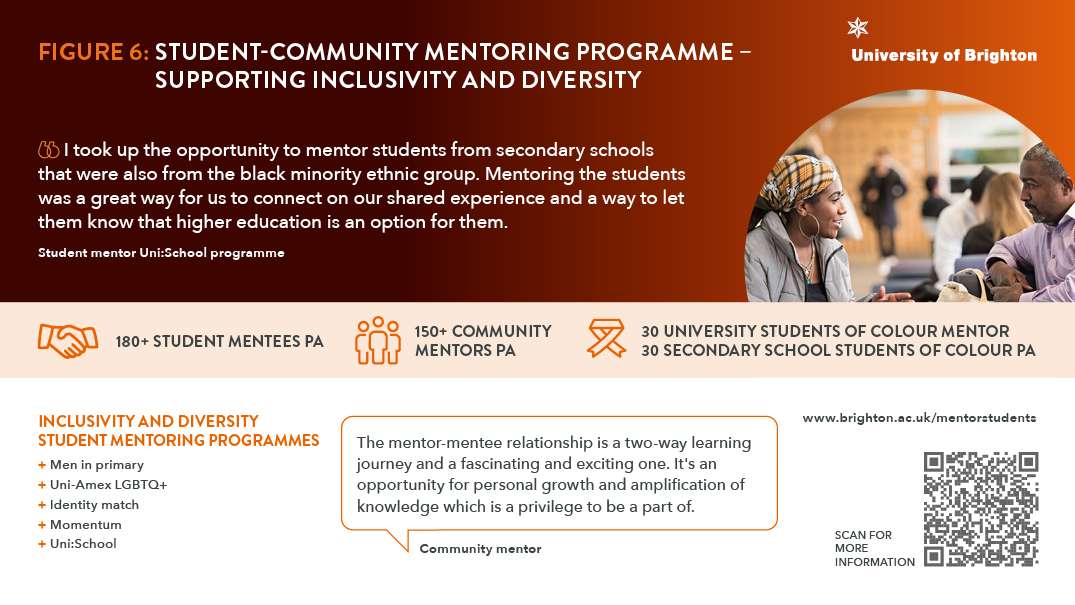 Self-assessment score
Delivering your strategy
5
Aspect 4: Results and learning
4.1 Evaluating our successes
Outcomes and impacts are summarised in Figures 2a-c and linked to objectives in Aspect 3. Aspect 5 outlines how learning is applied to practice. All engagement teams produce internal reports, and external partners on governance/programme boards review performance. Our institutional approach to evaluation involves teams adopting evaluation methods customised for activities and partner needs (Figure 4). Below we highlight key methods and outcomes across the teams.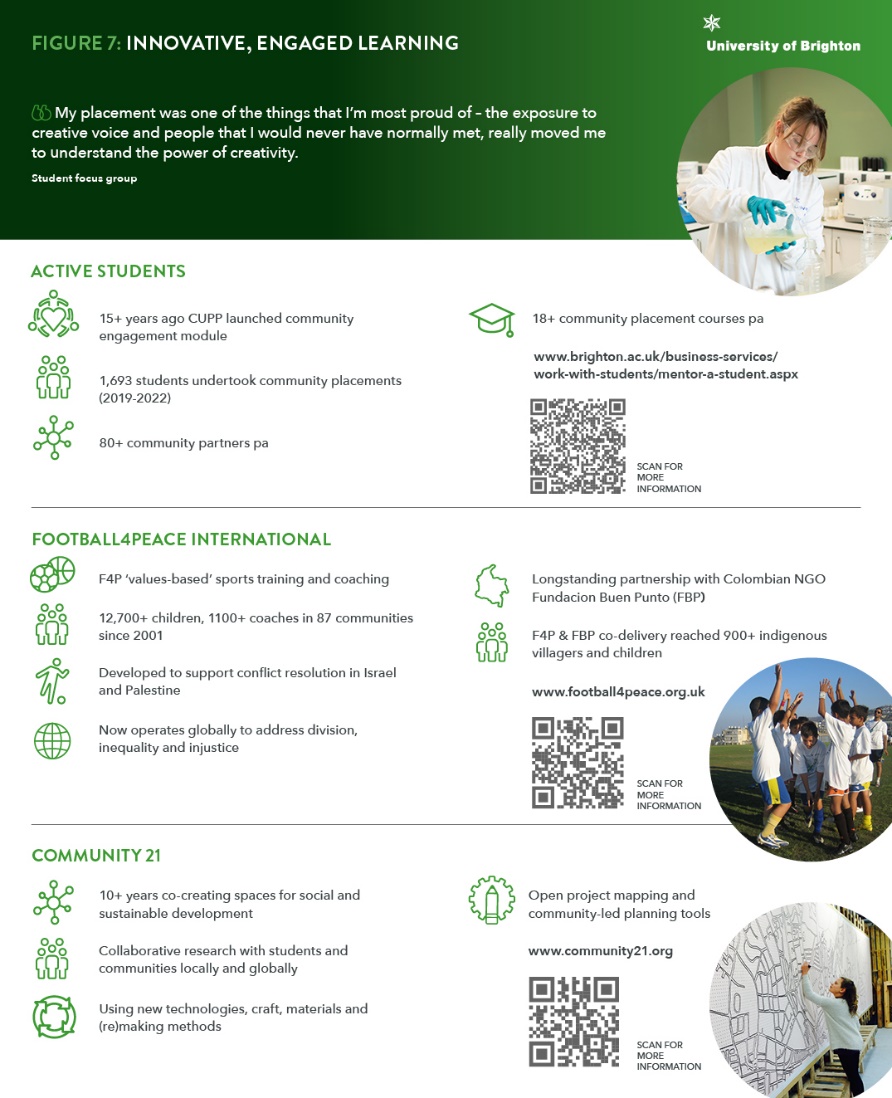 4.2 CUPP
Over 17 years, CUPP has utilised innovative forms of evaluation (Aspect 5). The Ignite programme testing an incubator model for community-university partnerships was evaluated using social learning spaces, interviews, self-evaluation forms and novel film productions.
Ignite outcomes and impacts included activities to support the mental health of children in a disadvantaged community, securing two plots of land to develop community housing and exploring anti-racist pedagogies in museums.
4.3 CCA
CCA programme evaluation involves quantitative and qualitative measures including audience attendance, social media, online engagement, participant feedback and press coverage. In just nine months, the outcome of the CCA is a new, free of charge cultural space in Brighton with success measures showing major impacts on visitors and public engagement with the arts (Figure 2b).
4.4 UoBAT
The Trust evaluates activity by comprehensive monitoring reports to the Board from five governance sub-committees supported by external evaluations including Challenge Partners and Safeguarding reviews. The outcomes of the Trust have been marked transformations in school performance and pupil learning. Over half of schools were rated as requiring improvement/satisfactory prior to joining. Now, all 15 schools are OFSTED rated good or outstanding. The importance of links to the University are cited in the latest OFSTED evaluation (Figure 2b testimonial).
4.5 SMV and OT
SMV and OT use strategic frameworks to identify the best evaluation methods based on intensity of activity, informing programme impact reports that measure against targets and plans. SMV has measurable outcomes linked to student employability and confidence, along with impacts benefitting external partner organisations including enhanced staff CPD and internal delivery improvements. In feedback, 100% of professional mentors would recommend the programme to others. OT outcomes include increases in university applications and successful targeting, so that 66% of participating young people are from the two lowest HE participation groups.
Self-assessment score
Evidencing success
4
Aspect 5: Acting on results
5.1 Two decades of acting on results
UoB is a pioneer in developing and communicating forms of learning based on outcomes to improve P&CE practice (Hart et al. NCCPE research synthesis 2009, Banks et al. 2017, Wenger-Trayner et al. 2017). Partners, students and staff engaged in UoB strategy review processes in 2013, 2015 and 2020/1 informed Aspect 1. Acting on the 2015 review, Etienne Wenger-Trayner, the leading social learning expert, was appointed as a 0.2 FTE Professorial Fellow and advises us on community-university engagement. Our teams all have policies and procedures to promote improvements including UoBAT's Strategic Business Plan 2018-23 with the first of five priorities stated as 'continuous improvements to pupil and academy outcomes'.
5.2 Current learning for improvement
Virtual spaces, especially under COVID-19, are central to working with partners to evaluate our practice and devise actions to improve long-term outcomes. Social learning spaces established pre-COVID-19 to identify improvements, are now online including UoBAT's Chairs Forum, CCA's new Dialogues and OT's College and School forums. The SMV team obtain feedback by text which proves highly effective in allowing partners to seek advice from the University and rapidly improve practice. The Men in Primary mentoring scheme and CCA's Dialogues were a direct response to social media feedback from partners.
Our teams' social media feeds (Figures 2a-c) with a total of 33,260 followers, contribute to 'real time' evaluation and also enable partners to register interest in working with us. Our regular strategy reviews have all supported continuous improvement in P&CE and Figure 5 summarises the three-stage approach to creating our planned 2021/22 P&CE strategy (1.2). Each stage will involve external partners and ensure we continue to address identified community needs and deliver cutting-edge P&CE.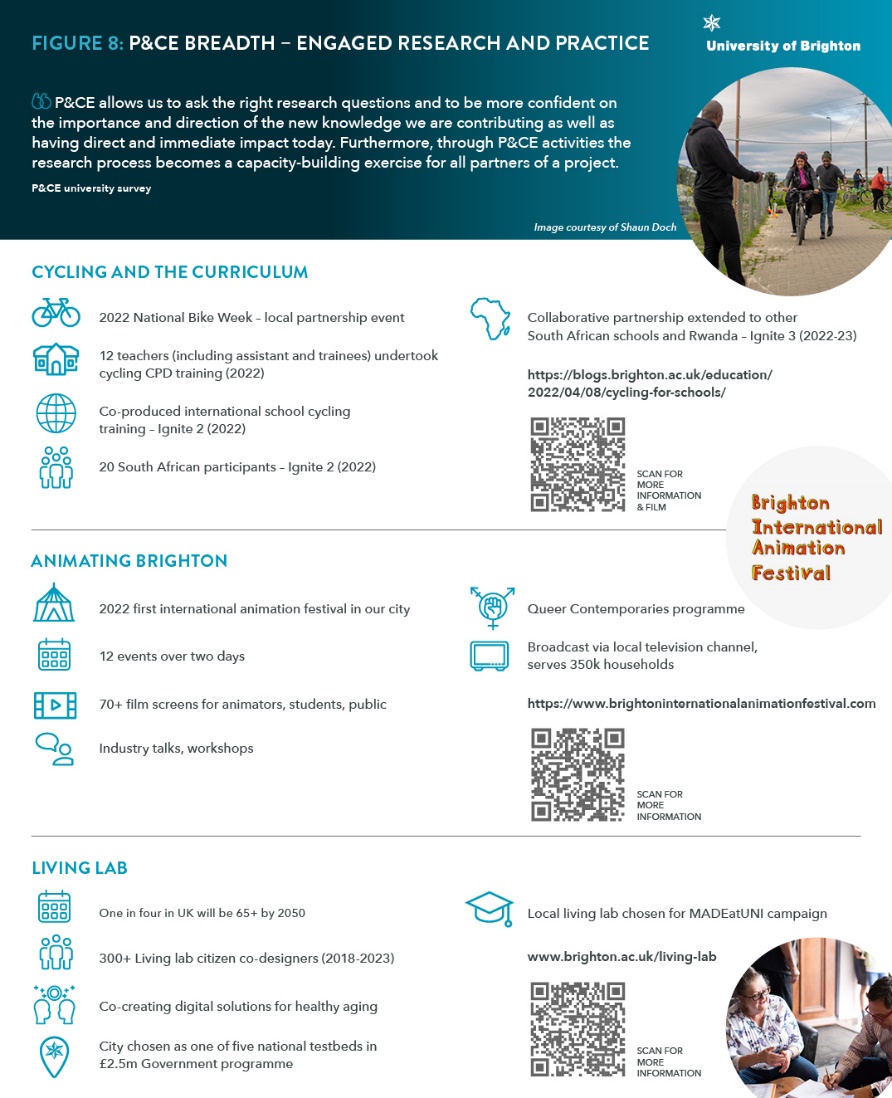 Self-assessment score
Communicating and acting on the results
4